Magic Online Weekly Announcements, August 29, 2023
Posted on Aug 29, 2023
Treasure Chest Information - UPDATED TODAY FOR CHANGES NEXT WEEK
MTGO Community Links: Forums  Discord  Twitter/X  Facebook  Instagram
---
THE LEAD
Wilds of Eldraine on MTGO Articles – Read Them Now!
Our return to the fairy-tale plane of Eldraine is one week away – Wilds of Eldraine debuts next Tuesday, September 5th on Magic Online! Check out our traditional set article for information on a ton of new initiatives:
The Deck Brewer's Pass – our first offering of All-Access at the start of a set!
Event Updates - including boosts to core Limited events, a new super-size Modern Challenge, and more
Commander Gauntlet and the shift in events for New Players
Anime Borderless Art Bundles
Commander Decks, Booster Fun, a handful of Unfinity cards, a Treasure Chest update, and more
On top of all of that, our new Associate Product Manager, Aaron Penfold, has his own article demonstrating some of the quality-of-life improvements we will implement following tomorrow's downtime. This includes:
Improved event filtering on the Home Scene and in the Constructed Play Lobby
Right-clicking a Commander to see how many times it's been cast this game
Shifts in timer location and in how Atraxa, Grand Unifier works
Choosing favorite lands for Limited and Constructed (#Yes!!!)
Downtime Tomorrow
We have a scheduled downtime tomorrow from 9 a.m. to approximately 12 noon Pacific time (16:00-19:00 UTC) to get Wilds of Eldraine ready in the system as well as to implement those sweet user experience improvements we mentioned above. Watch our social media accounts linked at the top of the Blog for updates!
Reminder: Treasure Chests do not update until Wilds of Eldraine launches on September 5th.
---
MTGO BROADCASTS
Congratulations to Lukas Jaklovsky, Winner of the MOCS Season 2 Showcase!
Eight of Magic Online's top competitors gathered on Saturday to earn their share of $70,000 and two invitations to next year's World Championship. In the end, Reanimator strategies ruled the day.
Sebastian Pozzo of Argentina had the hot hand during the Vintage Cube rounds, piloting a deck returning Iona, Shield of Emeria and Dragonlord Atarka (both of which wheeled in the draft) from the graveyard early and often. Sebastian defeated Lukas Jaklovsky of the Czech Republic in the pod finals to lock up a seat in the Championship round.
Lukas bounced back with his own Radkos Renaimator recipe in the Legacy rounds, knocking out Christopher Brackley of Scotland in the pod final.
Then in the Championship round, Lukas completed an undefeated day in Legacy by besting Sebastian's Lands deck in three games.

Lukas Jaklovsky took home $20,000 as Champion, while Sebastian Pozzo earned $15,000. Both players will appear at World Championship XXX in 2024!
The MTGO game team thanks all 8 Showcase competitors, our talented team of casters, and the exceptional behind-the-scenes production team for a great event!
If you want to be part of the next Showcase in January, click the Premier Play Information link at the top to learn more.
Super League Returns – Season 1 Starts This Wednesday
One of Magic Online's most popular streams is back – Modern Super League kicks off tomorrow at 1 p.m. PT (4 p.m. ET / 20:00 UTC). Catch all the action at twitch.tv/officialmagiconline or twitch.tv/anzidmtg. 16 Magic: The Gathering celebrities will compete over 12 weeks to determine who reigns supreme in the ever-evolving Modern format.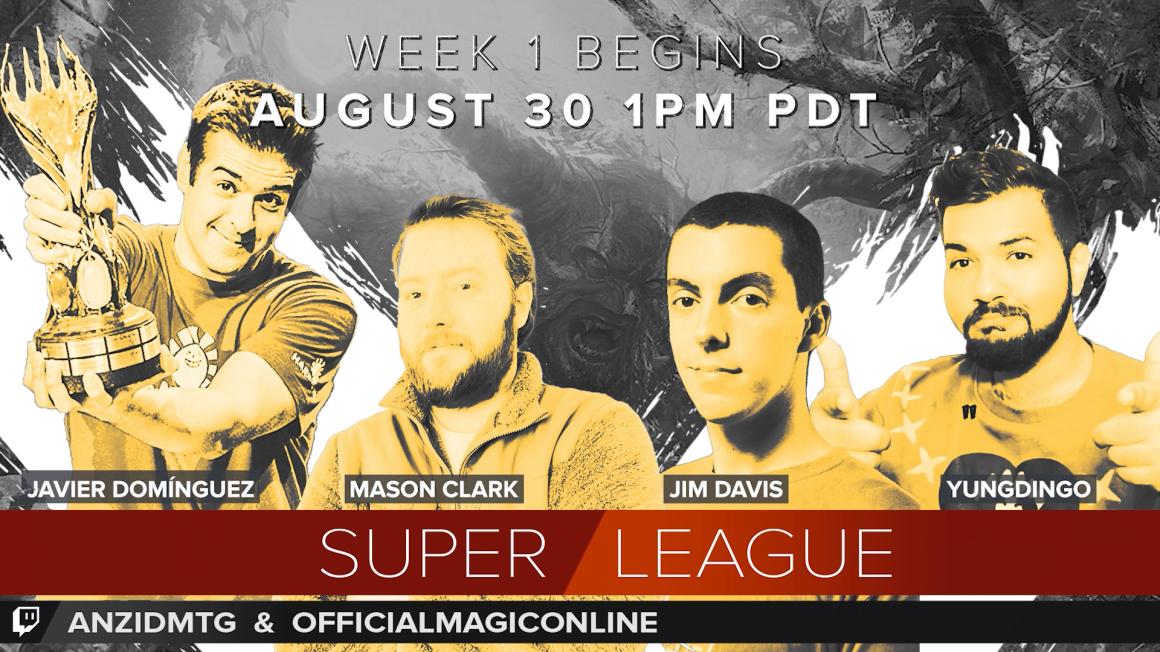 Week 1 features former World Champion Javier Dominguez, Jim Davis, Mason Clark, and YungDingo. Some others competing this season include Reid Duke, Simon Nielsen, kanister, and two Wizards – Gavin Verhey and Carmen Klomparens.
---
PREMIER PLAY
Vintage Cube 64-Player Elimination Events Continue!
We presented a special treat – 64-Player Vintage Cube Single Elimination Draft tournaments – and the MTGO community has responded in force! In all, we added 22 extra tournaments to the weekend's original schedule. Then we added one every open half-hour for 24 hours … it's been great!
Because it's Labor Day Weekend in the U.S. and Canada, we are going to keep the party going – a Premier Event of some kind will fire (almost) every half-hour Friday through Monday, September 1-4!
The idea is simple - Draft Vintage Cube once, win your pod, then draft Vintage Cube again with big prizes on the line.
Events will appear in the client to join immediately following downtime tomorrow.
Here are the details:
64-Player Vintage Cube Elimination Draft
Location: Limited Play Lobby -> Premier Events
Entry Options: 15 Event Tickets or 150 Play Points
Number of Players: 64 minimum, 64 maximum (event will wait up to 15 minutes after start time to fill)
Format: Vintage Cube Draft, then three 50-minute single elimination rounds. Players who finish 3-0 draft again in a similar fashion. This event is Phantom – cards opened will not be added to Collections.
Prizes:
| | | | |
| --- | --- | --- | --- |
| Match Wins | Play Points | Treasure Chests | Season 3 Qualifier Points |
| 6 | 500 | 50 | 24 |
| 5 | 350 | 35 | 12 |
| 4 | 300 | 20 | 6 |
| 3 | 150 | 10 | 3 |
| 2 | 150 | 5 | 1 |
Schedule for Week 2 – Check the MTGO client for available times.
NOTE (added 8/30): We are pre-empting Limited Prelims and Challenges until September 5 to accommodate additional 64-Player Events in the schedule.
Schedule for Rest of 2023 is Live
The Premier Play schedule for the remainder of 2023, including events that qualify for the Regional Championship round in the first quarter of 2024 (feeding the second Pro Tour in 2024), is now available at this link.
---
ALTERNATE PLAY
Vintage Cube Continues Through September 6
Magic Online's most popular format is back – Vintage Cube! Entries close Wednesday, September 6 at 10 a.m. PT (17:00 UTC).
Creative Director Ryan Spain details the suite of updates to the Cube and his thinking behind the changes in this article.
The full Cube card list and change list can be viewed on this page.
Entry options for this Phantom event (your choice – League or single-elimination Queue) are the customary 10 Event Tickets or 100 Play Points. See you in the Cube!
---
LEAGUE UPDATES
Commander Masters Leagues End Tomorrow
If you have drafted in the Commander Masters League but have not completed your single-game League course, you have until downtime tomorrow to play.
One Week Remains in LTR Leagues
The current suite of Leagues – both Constructed and LTR Limited – end next Tuesday when Wilds of Eldraine takes over. Be sure to get your last matches completed by then!
---
STORE UPDATES
Last Chance to Buy LTR & Unfinity Land Bundles!
If you've been thinking of picking up one of the Unfinity land bundles, or one of the five Middle-earth™ Bundles, there's no time to waste! These Bundles leave the Store next Tuesday when Wilds of Eldraine stocks the virtual shelves.
Redemption Corner
We've updated our Redemption page with new quantity percentages – we are now completely sold out of Dominaria United regular sets.
For those who will be collecting sets of Wilds of Eldraine, you can circle Wednesday, October 4 as our anticipated on-sale date.
Information on remaining stock of March of the Machine (regular and foil), Phyrexia: All Will Be One (regular) and The Brothers' War (regular) can be found on that link above.
IMPORTANT: As of May 23, all new orders of Redemption Tokens are non-refundable!
---
WEEKLY UPDATES
Freeform with Commander Now Available
We're particularly excited with our newest game mode – Freeform with Commander!
Check out Ryan Spain's article describing the how, what, and why of this wild new play mode, then give it a shot!
Two-Factor Authentication Is Now Live – Protect Your Account Today!
A long-requested security feature is now part Magic Online – check out Ryan Spain's article to learn the why, what, and how to put Two-Factor Authentication into effect to help protect your account!


Magic Online Format Challenges Every Weekend
Format Challenges are the first step toward qualifying for Premier Play through your favorite Magic formats and provide excellent prizes for those looking to test their mettle in their favorite formats. Learn more about Premier Play qualification to get started today.
Magic Online's Format Challenges run as shown on the schedule below.
On weekends featuring Showcase Challenge events, the Format Challenge that starts at either 6 a.m., 8 a.m., or 10 a.m. Pacific time is pre-empted by the Showcase Challenge; Format Challenges scheduled at other times remain in place.
NOTES:
CONSTRUCTED
In MOCS Season 3, Vintage and Pauper Challenges are never pre-empted.
32-Player events require 32 players to fire and give prizes to the Top 32.

Pauper and Vintage Challenges are always 32-Player tournaments.

All other events listed require 64 players to fire and give prizes to the Top 64.


LIMITED
32-Player Limited Challenge events are 6 rounds with no playoff

Limited Challenges are pre-empted 8/30-9/5
Check out the Magic Online Format Challenges page for further event details.
---
PATCH NOTES – August 30, 2023
Multiplayer & Commander
Choosing players to proliferate will become easier to see.
Trove of Temptation will work as expected.
Right-clicking a Commander (your own or opponents') will show how many times it's previously been cast from the Command Zone.
Harmonic Sliver will correctly work when returned to the battlefield via encore (Sliver Gravemother).
Duel Scene
Modal spells on the stack will correctly not appear as Effects/Triggered Abilities.
Rukarumel, Biologist will cause far less lag after Slivers deal combat damage.
Nahiri, the Lithomancer will no longer reset the game when a token doubler is involved.
Sauron's Ransom will no longer shown white borders of cards in face-down piles.
Play Lobby
Constructed events will be filterable by type.
Gauntlet events will appear in both the Limited and Constructed Play Lobbies.
Collection Scene & Limited Deckbuilding
Favorite lands will be selectable for Limited or Constructed.
Full-art Wastes will no longer show text.
Home Scene
Commander Gauntlet game mode will be added (First League September 5).
Scheduled Events will be displayable in either chronological order or by importance.
Atraxa, Grand Unifier's user experience will be improved.
---
NEXT SCHEDULED DOWNTIME – November 8, 9 a.m. to Noon PT
After tomorrow's downtime, the next scheduled maintenance will be Wednesday, November 8 from 9 a.m. to noon PT (16:00-19:00 UTC). This is to support the release of The Lost Caverns of Ixalan®.