Wilds of Eldraine on Magic Online
Posted on Aug 29, 2023
Hello Magic Online fans! It's time to start a new Magic year with the newest set Wilds of Eldraine (set code WOE) which goes on sale a week from today on Tuesday, September 5th at 10 a.m. Pacific time (17:00 UTC).
The downtime to add this set to MTGO will happen tomorrow from 9 a.m. to approximately 12 noon Pacific time (16:00-19:00 UTC). Be sure to follow our social media outlets (Discord, Twitter/X, and more) to keep real-time tabs on this release.
Into the Unknown ...
The next couple of months on MTGO features the return of Super Jump (with more power and as an evergreen event), increased prizes in most Limited events, a set of enchanting Bundles to purchase in the Store, and (at long last) some key Unfinity cards joining the game!
… But First ...
We also have a companion article featuring a slew of quality-of-life improvements in the game from our new Associate Product Manager Aaron Penfold – be sure to check it out, there's features for competitive, casual, and Commander players alike. Welcome to the Magic Online team, Aaron!
Now it's time to announce an exciting experiment:
---
Introducing the Deck Brewer's Pass
What if you had an entire week to test out your best ideas in all number of formats – including with the just-released card set on release day - prior to collecting key cards?
Now you can with Magic Online's Deck Brewer's Pass! It's a new take on All-Access that allows unprecedented usage of the newest cards in service of one goal: figuring out what cards you want to focus on collecting across all of MTGO. Whether it's for Commander, competitive play, or battling with friends, the Deck Brewer's Pass is a new boon to our game's Constructed players.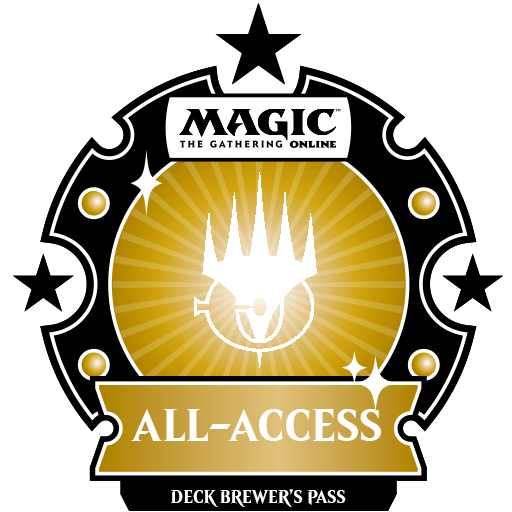 The Rare Event Token will serve as the item representing the Deck Brewer's Pass in the Store starting with Wilds of Eldraine's launch next Tuesday morning PT. The Pass will cost $20.00 USD, and All-Access privileges will last until Wednesday, September 13th at 10 a.m. PT (17:00 UTC).
To use the Pass, simply purchase it in the Store, build any legal deck in your chosen format, and enter a game or event. No cards will be added to your collection, but you'll be able to play even if you don't have all the cards in your collection.
Unlike regular All-Access, we are not offering the option to buy a second Token to spend as a Super Qualifier entry option. So, one Pass is the most any account needs.
We'll remove all Rare Event Tokens from accounts and turn off All-Access on September 13. If you're still competing in a Constructed League when access ends, you'll be allowed to complete that course.
Note: Just like previous All-Access periods, certain cards (Secret Lair versions, TRANSFORMERS, Battlebond, and old-frame Power Nine) are unavailable. Additionally, card variants sold in Bundles (Oil Lands, Borderless Praetor-Sagas, etc) are unavailable. All-Access doesn't apply to Limited events.
---
Boosted Prizes in Core Limited Events
Limited players, we haven't forgotten about you. After tying more generous prize structures for LTR to the set's higher price point, we have decided to try a prize support boost for our core Limited offerings!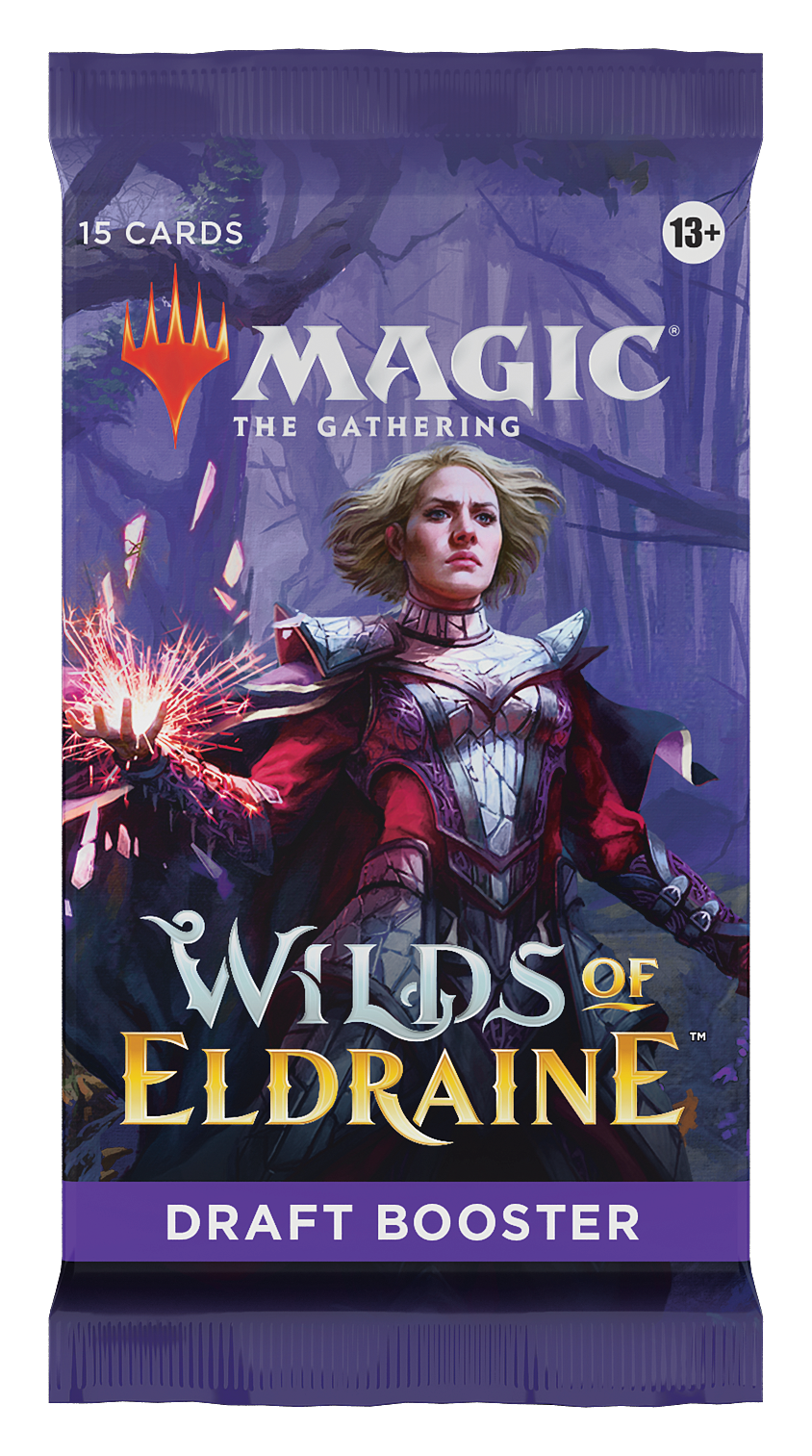 Here are the changes that will take effect with Wilds of Eldraine (compared to March of the Machine):
Draft League – +1 booster per prize level - was a 6-2 (6 packs for 3-0, 2 packs for 2-1), now will be a 7-3
Elimination Draft Queue – +33% prizes - was a 6-3, now will be an 8-4
Competitive Sealed League – +33% prizes at top - was a 6-3-1 (for 5, 4, and 3 wins), now will be 8-4-1
Friendly Sealed League – Dropping from 3 stages of three matches each down to 2 stages worked well. Costs and prizes have been adjusted – see the MTGO Limited Events page for details.
Scheduled Event Tweaks
To continue cultivating growth in our Weekend Challenge tournaments, we are adjusting event structures in a couple different events effective September 8-9:
The most popular Format Challenge – Modern held Saturdays at 8 a.m. PT (15:00 UTC) – has grown so much that we are creating a new extra-large prize structure! All prize levels have increases in Play Points and prizes will now go down to 96th
Limited Challenges will have a reduced entry from 40 Event Tickets to 35 starting with WOE – we've trimmed Play Point and booster prizes slightly, but the rest of the prizes (including a full set for 6 wins) are the same.
In case you missed it, we added Standard Preliminaries back to the schedule a couple weeks ago.
Vintage Cube 64-Player events run around the clock for one more week until WOE starts.
Other Event Updates
We will continue to offer a limited-time Best-of-One League at the start of the set, and we will bring back Phantom Sealed after the set has been live for a few weeks. There are no changes to these events.
Our Friendly Modern League was a success, so it will return for WOE season. New versions of our six Constructed Leagues will kick off when WOE launches as normal.
---
How to Collect and Play Wilds of Eldraine
Boosters
Each WOE booster pack will sell for $3.99 USD in the MTGO Store starting on Tuesday at 10 a.m. PT. The pack consists of the usual assortment of commons and uncommons, an occasional premium foil card, and a single rare/mythic - plus one card from the Enchanting Tales bonus sheet!
Wilds of Eldraine Commander
This set has two new Commander decks for you to enjoy – each deck features ten brand-new cards plus a suite of reprints. The decks will sell for $29.99 USD each in the MTGO Store starting next Tuesday. They are:
Fae Dominion (blue-back)
Virtue and Valor (green-white)
NOTE: Both of these decks will now be fully functional at Tuesday's launch. Two other Commander cards available only via Treasure Chests – Court of Locthwain and Throne of Eldraine – did not make our cut-off date and will be included in a future release.
Booster Fun
Alternate-art treatments of Wilds of Eldraine will appear in many of the usual places. These include:
Extended-Art, Borderless, and Showcase Rares/Mythics (Treasure Chest)
Promo Cards - including Promo Pack, Buy-a-Box, and the Bundle Promo (Treasure Chest)
This set's Jumpstart cards (Regular in Deck Builder's Essentials, Extended-Art in Treasure Chest)
---
Anime Borderless Bundles
But the coolest art on the block for this set will appear in our Art Bundles. Featuring whimsical illustrations by Japanese artists, 20 cards on the Enchanted Tales bonus sheet have been given an anime makeover!
Each of our Anime Borderless Bundles will sell for $19.99 USD when the set launches next week. The five colors of Magic are represented with four cards apiece: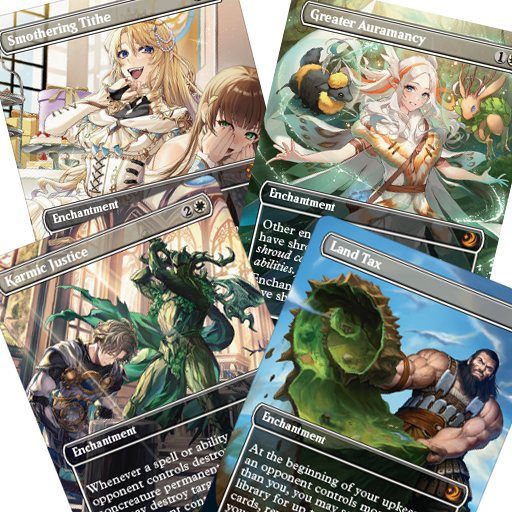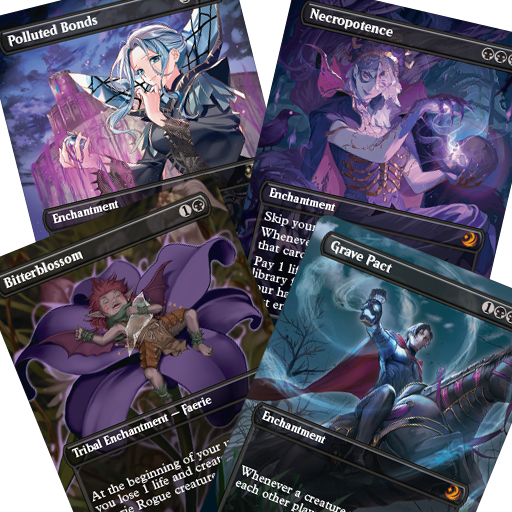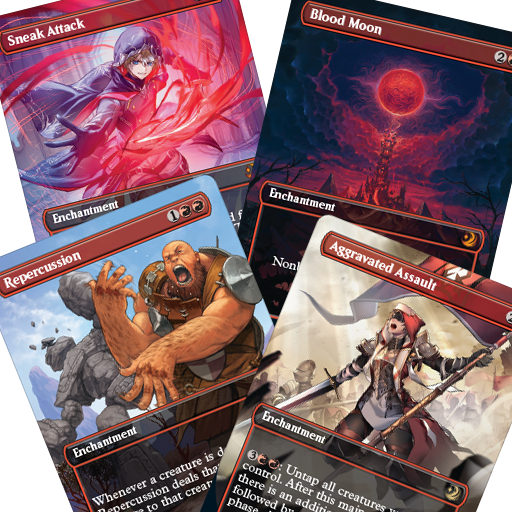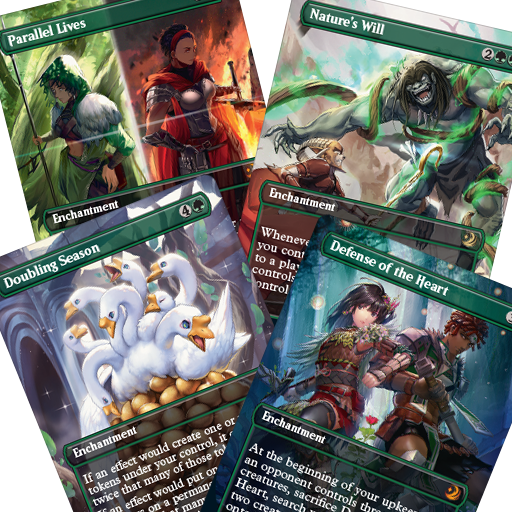 White Bundle – Greater Auramancy, Karmic Justice, Land Tax, and Smothering Tithe
Blue Bundle – As Foretold, Kindred Discovery, Omniscience, and Rhystic Study
Black Bundle – Bitterblossom, Grave Pact, Necropotence, and Polluted Bonds
Red Bundle – Aggravated Assault, Blood Moon, Repercussion, and Sneak Attack
Green Bundle – Defense of the Heart, Doubling Season, Nature's Will, and Parallel Lives
---
New Player Experiences Changing
We have taken a hard look at our new player path of events, so we are implementing changes alongside the release of WOE. This is a first step for initiatives aimed at making the beginning of a player's MTGO journey more intuitive, welcoming, and rewarding.
By the end of September, there will be a three-pronged approach to New Player Events. Each event showcases one of Magic Online's differentiating experiences in the digital Magic world.
First, we are keeping the Modern Gauntlet intact – this helps new folks get exposed to our most popular competitive Constructed format by playing a selection of decks.
Time to Run the Commander Gauntlet
The newest piece of the New Player triumvirate is Commander Gauntlet! We're taking the five Starter Commander Decks available in the Store and pitting them against one another for new players to gain experience in a Phantom experience. After joining the event, choose one of the decks, review its contents, then join the matchmaking queue.
From there, it's a 2-player game – play some Commander! There are nominal prizes after completing three games with the deck.
New Player Commander Gauntlet League Details
Start Date: August 30 following downtime
Entry Options: 6 New Player Points OR 2 Event Tickets OR 20 Play Points
Duration: Up to 3 two-player, single-game matches. Match settings: 20 minutes per player, 40 life
Product: Choice of Starter Commander Decks. This League is Phantom – cards will not be added to Collection.
Prizes:
3 Wins: 30 Play Points
2 Wins: 10 Play Points
1 Win: 5 Play Points
Super Jump Returns September 27
One of the best experiences on Magic Online is Vintage Cube, and what we've found recently is that Jumpstart is our most effective format for bridging the gap for new players who are climbing the learning curve.  So our favorite mash-up format – Super Jump – will be returning to MTGO as an evergreen offering on September 27! We'll have more details in a couple of weeks.
In the meantime, we have extended The Lord of the Rings: Tales of Middle-earth™ Jumpstart League to run until September 27. Super Jump will emulate the LTR League by allowing entries with New Player Points, Event Tickets, or Play Points to allow everyone to join in the fun.
---
MTGO at Magic Con Las Vegas
For those of you attending Magic Con Las Vegas September 22-24, be sure to stop by the Magic Online booth!
We'll be hosting live Super Jump queues, Customer Service will be on-hand to help players retrieve their accounts, there will be a player survey opportunity, and we'll have a Meet the Devs area to talk all about MTGO with fans and content creators. Stop by the booth and do one of those activities to get a Con-exclusive avatar!
---
Treasure Chest Update
Treasure Chests will update when WOE goes on sale next Tuesday – be sure to watch our Twitter/X (@MagicOnline) and our Discord channel to confirm this before opening Chests.
For full details on the changes to come, check out the Treasure Chest information page.
After next Tuesday, the next Treasure Chest update will occur on Wednesday, October 4.
---
Commander Corner
We have made further progress against the Commander backlog during this development cycle. As with last time, the cards added this time were basically free to us while coding cards for upcoming sets. These will appear in the TC-Only slot.
Additions from Commander Backlog
Galea, Kindler of Hope (AFC)
Harper Recruiter (CLB)
Share the Spoils (AFC)
Unfinity – First Batch
Additionally, we have finally been able to make time for some of the most-requested cards for Unfinity – these five cards are going into this release!
_____ Goblin*
Comet, Stellar Pup
Embiggen
Pair o' Dice Lost
Saw in Half
*denoted as "Name-Sticker" Goblin in MTGO
These cards will go directly into the TC-Only slot of Treasure Chests. To answer a couple of questions:
Will the fancy version of Comet, Stellar Pup be available? Yes, both versions of Comet, Stellar Pup will be available.
Wait, there are no sticker sheets in MTGO – how will ____ Goblin work? A fine question – because of this card's importance to tabletop competitive play, we took suggestions from our friends at Studio X as well as the Community.
First - we have changed the text of the card for MTGO. 
In Tabletop, the rules text is: "When ____ Goblin enters the battlefield, you may put a name sticker on it. Add R for each unique vowel on that sticker. "
On MTGO, the rules text will be: "When "Name-Sticker" Goblin enters the battlefield

from anywhere other than a graveyard or exile

, if it's on the battlefield and you control 9 or fewer creatures named "Name-Sticker" Goblin, roll a 20-sided die. Add red mana based on the roll's result."

(Red text added 9/5 & applies in-game 9/13)
We determined the optimal deck of 10 sticker sheets, then found out how much mana a random selection of three of those sheets would yield, and converted it into a D20 roll:
| | |
| --- | --- |
| Roll Result | Red Mana |
| 1-6 | 4 |
| 7-14 | 5 |
| 15-20 | 6 |
There are differences between tabletop and MTGO - the mana amount is determined when the trigger resolves (not known in advance) and these Goblins all have the same name (#EchoingDecay). The expected amount of red mana overall is slightly better online than in paper.
However, we did maintain key checks from tabletop - infinite copies don't result in infinite mana online (in tabletop you get a maximum of nine name stickers at once), and if a Goblin is removed in response to its trigger, the Goblin's controller gets no mana.
The reason we are doing this for one card is to help close the parity gap with the tabletop metagame. This is our first crack at a custom implementation for MTGO, so we reserve the right to announce tweaks to this card in the future. NOTE: This card will be banned in all formats at launch with an expected unban date of September 13.
---
Magic Online Players Rewards (MOPR) Update
Upcoming MOPR rewards in October and November – based on store and play activity in the previous month – will contain foil versions of this set's showcase basic lands as well as the uncommon Enchanting Tales. That group includes Grasp of Fate, Spreading Seas, Impact Tremors, Utopia Sprawl, and more.
For more information on earning Player Rewards, click here.
---
Alternate Play Schedule
Here's a look at the schedule of events coming up between now and The Lost Caverns of Ixalan®. Each description mentions whether or not the Draft is Phantom – cards won't be added to players' collections in Phantom events. All transitions take place at 10:00 a.m. PT (17:00 UTC) unless otherwise noted.
September 5-20 – Wilds of Eldraine will be the focus. Its Best-of-One League will run exclusively during these dates.
September 20-27 – While the MTGO team is at Magic Con Las Vegas, the game will celebrate the final run of the Magic 30 Cube. (Phantom)
September 27-October 4 – Designer John Terrill is bringing back his CubeCon Cartographia Cube with updates to its land-focused play experience. Look for his article on September 26. (Phantom)
October 4-18 – The current version of the Vintage Cube returns here, but it's getting the Supreme treatment - pick 2 cards from a pack, discard the pack, pick 2 from a different pack, etc. The power levels of these decks are Off. The. Charts! (Phantom)
October 18-25 – To kick off Spooky Season, it's Innistrad Chaos Draft! (Phantom)
October 25-November 1 – We're lining up something spooky for Halloween week, but it's not ready to talk about yet ...
November 1-8 – Let's kick Wilds of Eldraine draft up a notch and give it the Supreme treatment too! (Phantom)
November 8-14 – There's something even cooler in the works here – more details closer to this time.
---
Avatars
We will grant Prestige avatars from The Lord of the Rings: Tales of Middle-earth™ shortly after the end of that season on September 5th.
Now let's look ahead to the avatars of our return to Eldraine! First up is the avatar given out in New Account kits and Deck Builder's Essentials – it's The Goose Mother!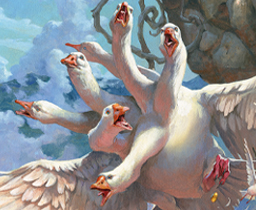 Next, we present the single avatar available in Treasure Chests – we have found that this class of avatars are not much in demand, so we are cutting back to a single TC avatar per set. For Wilds of Eldraine, it's Syr Ginger, the Meal Ender!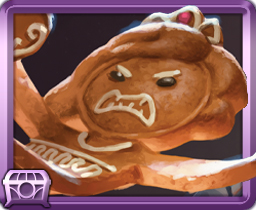 Finally, we will dole out some Prestige! As usual, you get five points for each Competitive trophy you earn in Leagues and one for each Friendly trophy. At the end of the season (when The Lost Caverns of Ixalan® releases), you'll earn every avatar for which you qualify:
Earning at least five points gets you the uncommon Hylda of the Icy Crown avatar.
Earning at least 20 points nabs you the rare Eriette of the Charmed Apple avatar.
Earning 40 points or more rewards you with the mythic rare Ashiok, Wicked Manipulator Prestige avatar.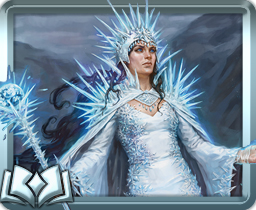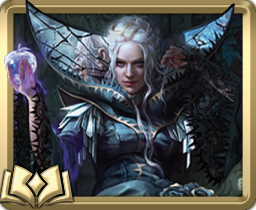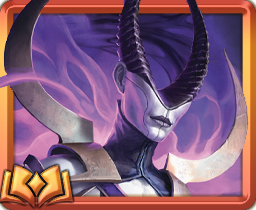 ---
Odds and Ends
Wilds of Eldraine will be redeemable. Redemption Tokens are planned to go on sale in the Store on Wednesday, October 4. Stay tuned to the Weekly Announcement Blog at com for details.
Reprints in WIlds of Eldraine that are entering a format won't become legal until the new Leagues kick off next Tuesday.
Similarly, New Player products will not feature Wilds of Eldraine until the set is on-sale.
As a reminder, Standard is not rotating with this set – unlike previous years.
We'll see you on the battlefield!
By Tony Mayer