Magic Online Weekly Announcements, August 15, 2023
Posted on Aug 15, 2023
Premier Play Information UPDATED WITH FALL EVENT DATES TODAY
MTGO Community Links: Forums  Discord  Twitter/X  Facebook  Instagram
---
THE LEAD
Vintage Cube Returns Tomorrow
Magic Online's most popular format is back – Vintage Cube – starts a three-week run tomorrow at 10 a.m. Pacific time (17:00 UTC)! The Cube is back because it's a featured format of the upcoming MOCS Season 2 Showcase event (August 26, twitch.tv/magic).
Creative Director Ryan Spain details the suite of updates to the Cube and his thinking behind the changes in this article.
The full Cube card list and change list can be viewed on this page.
Entry options for this Phantom event (your choice – League or single-elimination Queue) are the customary 10 Event Tickets or 100 Play Points. See you in the Cube!
Multiple Reinstall Issue Fix Imminent
Thank you for your patience on the issue with the game requesting reinstall much more often than normal. This was caused by a confirmed bug in Windows 10 with ClickOnce applications. Microsoft began rolling out a fix yesterday afternoon Pacific time that should reach all users worldwide by 5 p.m. PT tonight (midnight UTC Wednesday).

A clean reinstall of MTGO shouldn't be needed once the fix is applied. A Windows reboot may speed up resolution, but isn't guaranteed to do so.
---
PREMIER PLAY
It's Showcase Challenge Weekend – With Increased Prizes!
A new MOCS season is underway, so it's time to qualify the first players for the next round of Showcase Qualifiers in December.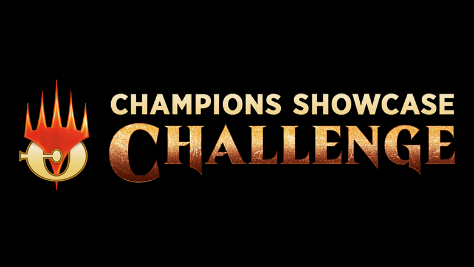 It takes 40 Season 3 Qualifier Points to enter a Showcase Challenge. The Top 8 finishers in each event earn a Championship Entry Token for the event's format plus earn Leaderboard Points toward an At-Large berth in the next Showcase!
Due to the growing popularity of these events over the past year, we have increased the prize pool for Showcase Challenges starting with this season (and last week's events) – prizes now go down to 128th place! The increases are:
Regular full set for players finishing in 9th-16th places
Regular full set for players who finish the Swiss rounds with an X-2 record (only 2 match losses)

The sets for X-2 will be granted by Customer Support in the week following the event

Prizes for 33rd-64th places increased to 200 Play Points and 10 Treasure Chests
Prizes for 65th-128th places added – 150 Play Points and 5 Treasure Chests
Here are the dates and times for this weekend's events: 
| | | | |
| --- | --- | --- | --- |
| DATE | TIME (PT) | TIME (UTC) | EVENT |
| Saturday, August 19 | 6:00 a.m. | 13:00 | Standard Showcase Challenge |
| Sunday, August 20 | 8:00 a.m. | 15:00 | Legacy Showcase Challenge |
For more information on these events, click the Premier Play Information link at the top of the Blog.
Standard Preliminaries Are Back!
Because Standard is the rotating MOCS format for the current season, we have added Preliminary events to the Weekly Schedule starting tomorrow. They will be held at the following times:
| | | |
| --- | --- | --- |
| Day | Time (PT) | Time (UTC) |
| Wednesday** | 9:00 a.m. | 16:00 |
| Thursday | 5:00 p.m. | Midnight* |
| Monday | 4:00 a.m. | 11:00 |
| Monday | 9:00 p.m. | 04:00* |
| Tuesday | 5:00 p.m. | Midnight* |
*indicates next-day
** This event won't run on weeks with Wednesday downtime
Like other Constructed Preliminaries, the entry option for these four-round events is 20 Event Tickets or 200 Play Points – full details can be found here.
Premier Calendar Updates - Including Qualifier Schedule
Qualifiers and Super Qualifiers for the remainder of 2023 (feeding the winter round of RCs that feed the second PT in 2024) have been posted on the Premier Calendar.
We made a couple other updates this week to avoid conflicts with other recently-scheduled events in the Magic world.
The Modern and Pioneer Showcase Challenges originally slated for October 7-8 conflicted with the Arena Championship. The Challenges have been pushed back a week to October 14-15.
The Legacy and Pioneer Showcase Qualifiers have flip-flopped to avoid a conflict with tabletop Eternal Weekend events. The Legacy event will now be December 3, and the Pioneer tournament will be December 10.
---
ALTERNATE PLAY
The Return of 64-Player Single-Elimination Drafts – with Vintage Cube
We have a two-weekend gap of Premier Play at the end of August and the beginning of September, so we're bringing back an old favorite – 64-Player Single-Elimination Draft events!
Draft Vintage Cube once, win your pod, then draft Vintage Cube again with big prizes on the line.
We'll have exact scheduling and prize details next week, but we will run these tournaments every 4-6 hours from Friday, August 25 through Monday, September 4 – so mark your calendar!
---
WEEKLY UPDATES
Commander Masters on MTGO!
Check out our latest set article to get all the ins and outs of Commander Masters (CMM)! Get all the info on:
CMM Draft Leagues (Keeper and Phantom), which run until downtime on August 30.
Store offerings, including the stunning Unfinity land bundles (only available for a month) and CMM Boosters & its powerful Commander Decks
Treasure Chest updates
The Lord of the Rings: Tales of Middle-earth™ on MTGO
Check out this article for the scoop on everything on offer:
Art Bundles and other items

Note: LTR Bundles will continue to be sold until September 5

Event updates, including special prize structures
Jumpstart's return as a New Player experience
Redemption Corner
We've updated our Redemption page with new quantity percentages – we are now completely sold out of Dominaria United regular sets.
Information on remaining stock of March of the Machine (regular and foil), Phyrexia: All Will Be One (regular) and The Brothers' War (regular) can be found on that link above.
IMPORTANT: As of May 23, all new orders of Redemption Tokens are non-refundable!
Freeform with Commander Now Available
We're particularly excited with our newest game mode – Freeform with Commander!
Check out describing the how, what, and why of this wild new play mode, then give it a shot! And what better way to try out cards in a new format than ...
Two-Factor Authentication Is Now Live – Protect Your Account Today!
A long-requested security feature is now part Magic Online – check out Ryan Spain's article to learn the why, what, and how to put Two-Factor Authentication into effect to help protect your account!
Magic Online Format Challenges Every Weekend
Format Challenges are the first step toward qualifying for Premier Play through your favorite Magic formats and provide excellent prizes for those looking to test their mettle in their favorite formats. Learn more about Premier Play qualification to get started today.
Magic Online's Format Challenges run as shown on the schedule below.
On weekends featuring Showcase Challenge events, the Format Challenge that starts at either 6 a.m., 8 a.m., or 10 a.m. Pacific time is pre-empted by the Showcase Challenge; Format Challenges scheduled at other times remain in place.
NOTES:
CONSTRUCTED
In MOCS Season 3, Vintage and Pauper Challenges are never pre-empted.
32-Player events require 32 players to fire and give prizes to the Top 32.

Pauper and Vintage Challenges are always 32-Player tournaments.

All other events listed require 64 players to fire and give prizes to the Top 64.


LIMITED
32-Player Limited Challenge events are 6 rounds with no playoff
64-Player Limited Challenge events are 7 rounds with no playoff
Check out the Magic Online Format Challenges page for further event details.
---
PATCH NOTES – August 16, 2023
Mowu, Loyal Companion will work correctly with cards returning it from exile (Otherworldly Journey, Teferi's Time Twist) or counters added as it enters the battlefield (Savage Summoning, etc)
Vintage Cube has been updated
NEXT SCHEDULED DOWNTIME – August 30, 9 a.m. to Noon PT
After Thursday's downtime, the next scheduled maintenance will be Wednesday, August 30 from 9 a.m. to noon PT (16:00-19:00 UTC). This is to support the release of Wilds of Eldraine.