Commander Masters on MTGO Starting August 3
Posted on Aug 01, 2023
Hello Magic Online fans! A packed late-summer lineup is headed your way, starting with Commander Masters (set code CMM) which goes on sale one day prior to tabletop – this Thursday, August 3rd.
The downtime to add this set to MTGO will also take place on Thursday from 9 a.m. to approximately 12 noon Pacific time (16:00-19:00 UTC). Be sure to follow our social media outlets (Discord, Twitter/X, and more) to keep real-time tabs on this release. That means Leagues will be live and items in the Store will be available as soon as we are up!
The month of August features a number of high-power Commander decks, some out-of-this world Bundles, and the return of Vintage Cube …
---
How to Collect and Play Commander Masters
Boosters and Events
Each 20-card CMM booster pack will sell for just $4.99 USD in the MTGO Store starting after downtime on Thursday. There are two rares and/or mythics per pack, plus a non-common of any rarity and a premium foil of any rarity.
Our experiment with four-player, single-game pods continues with tweaks. The Phantom League will remain at 4 Event Tickets, plus we are dropping the price of the Keeper League from 15 Event Tickets to 12!
Like previous multiplayer leagues, prizes are based on how many votes each player receives from the game. Each player gets one vote, and the game's winner receives two bonus votes for themself – a maximum of five votes can be earned by one player. Votes are cast as players are eliminated or when the game ends, though the decision can be deferred if players want to watch the rest of the action before choosing.
These Leagues will run from the end of downtime on Thursday until our next downtime on August 30. Here are the event details:
Commander Masters Keeper Draft League
Entry Options: 12 Event Tickets, 3 Commander Masters (CMM) boosters and 2 Event Tickets, or 120 Play Points
Prizes (based on player votes with two bonus votes to the game winner):
5 votes: 4 CMM boosters + 140 Play Points
4 votes: 4 CMM boosters + 80 Play Points
3 votes: 2 CMM boosters + 80 Play Points
2 votes: 1 CMM booster + 80 Play Points
1 vote: 60 Play Points
Commander Masters Phantom Draft League
Entry Options: 4 Event Tickets or 40 Play Points
Draft Product: 3 Commander Masters boosters – cards opened in Phantom events aren't added to players' Collections
Prizes (based on player votes with one bonus vote to the game winner):
5 votes: 1 CMM booster + 90 Play Points
4 votes: 1 CMM booster + 70 Play Points
3 votes: 1 CMM booster + 50 Play Points
2 votes: 40 Play Points
1 vote: 20 Play Points
Don't forget – our new Freeform with Commander room is the perfect place to play with your CMM keeper draft deck in a casual setting once your League match is complete!
The Commander Masters Draft Format
For those of you who just enjoyed Commander Legends draft, Commander Masters draft will look very similar: draft 2 cards at a time, build a 60-card deck including either a single commander or two with the partner ability, play only cards with your commanders' color identity, multiple copies of cards are OK, and each player starts with 40 life.
An additional wrinkle unique to CMM Limited is that colorless & single-color legendary creatures have the Partner ability stapled onto them – keep this in mind during the draft! As a last resort, the Prismatic Piper is an available partner if you are short a color (or two) in the Command Zone.
---
Commander Masters Commander Decks
Four heavy-hitting themes are covered in CMM's suite of Commander decks – Slivers, planeswalkers, Eldrazi, and enchantments! Each deck is $39.99 USD in the MTGO Store and includes 10 cards that are new to the game plus a strong set of reprints – check out the decklists here. The decks are:
Eldrazi Unbound (colorless)
Enduring Enchantments (white-black-green)
Planeswalker Party (red-blue-white)
Sliver Swarm (five-color)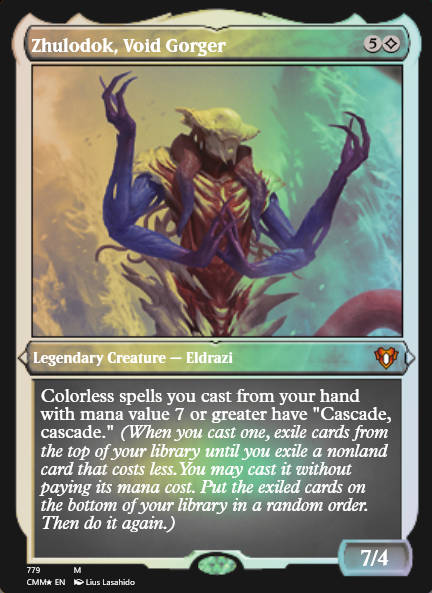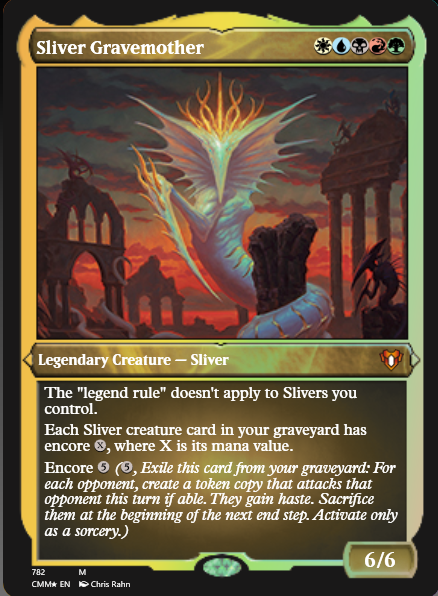 ---
Booster Fun
Some groups of art will appear in Treasure Chests and (rarely) within boosters once CMM goes on-sale. These include:
Extended-Art Rares and Mythics from the Commander decks
Foil-Etched Legends
The Legends in Profile
Borderless Favorites
---
Unfinity Land Bundles
We have a special treat this month – the space-themed lands from Unfinity land on MTGO for a limited time!
Space-ic Lands
These cards are anything but basic … even though they are, in fact, basic lands! Choose from either the Atomic Space-ic Land Bundle (with their fancy atomic mana symbols) or the Orbital Space-ic Land Bundle (featuring planets – many of them). Each Bundle contains 10 of each space-ic land type (50 cards in all) and sells for $24.99 USD in the MTGO Store starting Thursday morning.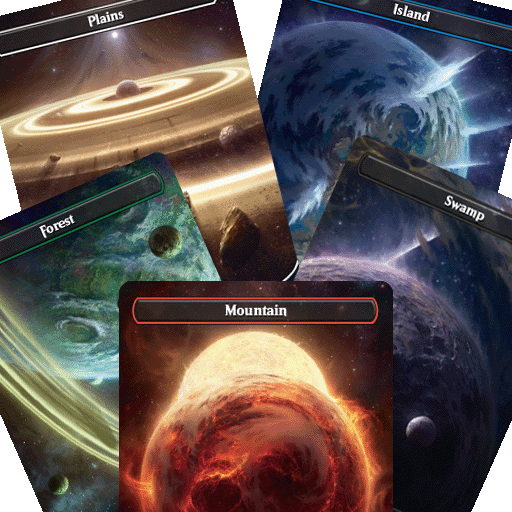 Atomic Space-ic Lands (left), Orbital Space-ic Lands (right)
Planetary Shocklands
The stars of these bundles are the Shocklands (Watery Grave, Hallowed Fountain, and friends), each showcasing a gorgeous space scene that pops on the screen. The Planetary Shocklands Bundle consists of one digital copy of each of the 10 Shocklands – choose either Regular or Foil – and sells for $39.99 USD.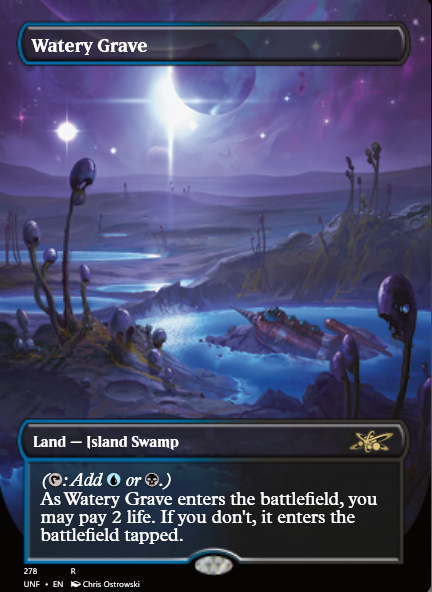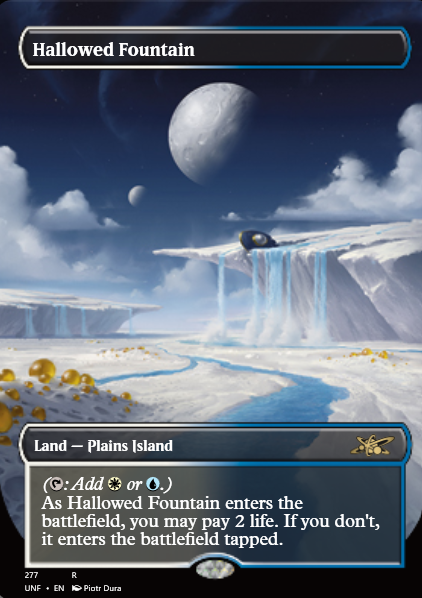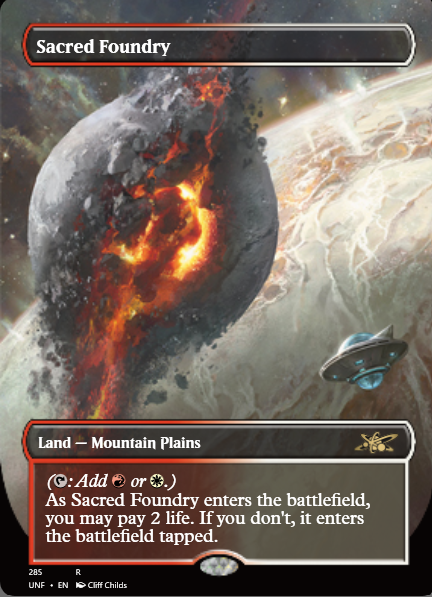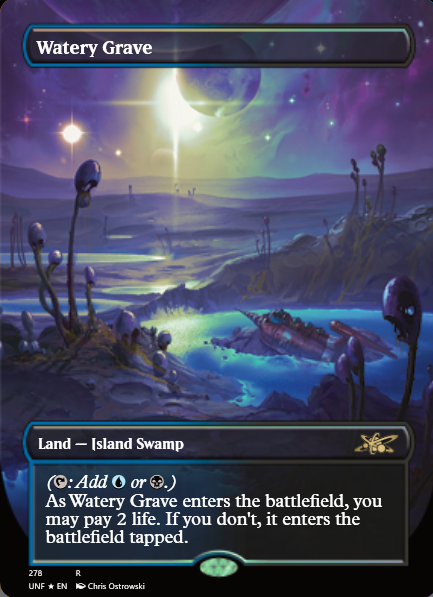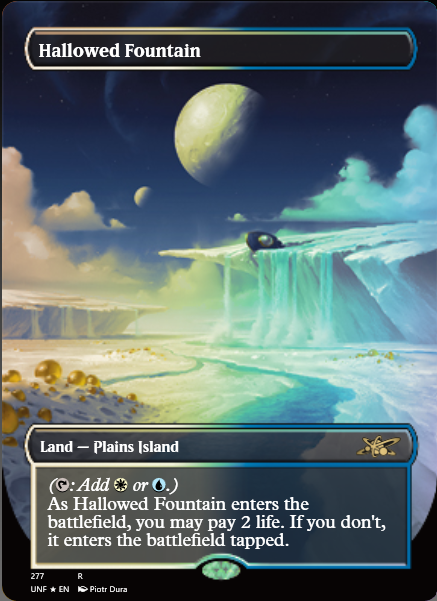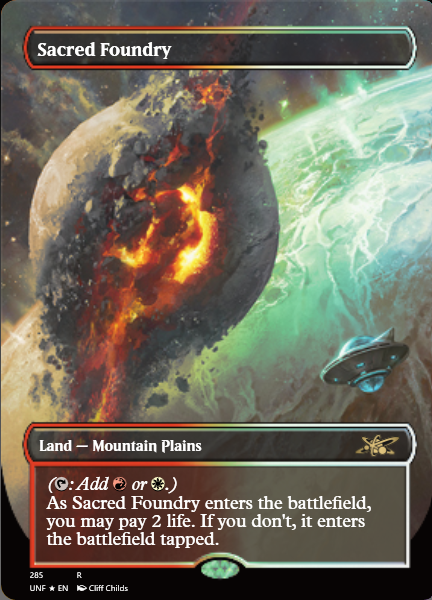 Regular Planetary Shocklands (top) and Foil Planetary Shocklands (bottom)
Perfect for blinging all of your Commander decks in one purchase, get it before it's gone! Like previous Bundles, these cards will not appear in Treasure Chests and will leave the Store with the release of Wilds of Eldraine on September 5th.
---
Treasure Chest Update
Treasure Chests will update with Thursday's downtime – but be sure to watch our Twitter/X (@MagicOnline) and our Discord channel to confirm this before opening Chests.
Chests will look a little different this month due to the sheer number of alternate-art treatments available in Commander Masters. The Curated slot will have a smaller list than normal compared to the TC-Only slot. All of the foil-etched CMM cards and extended-art Commander will be in TC-Only, while the profile, frame break, and borderless favorites will appear In the Curated slot.
Also, March of the Machine regular and foil sets have been added to the Curated slot!
For full details on the changes to come, check out the Treasure Chest information page.
The next Treasure Chest update takes place with Wilds of Eldraine on September 5.
---
Commander Corner
We have made further progress against the Commander backlog during this development cycle. As with last time, the cards added this time were basically free to us while coding cards for upcoming sets. These will appear in the TC-Only slot.
Additions from Commander Backlog
Astral Dragon (CLB)
Creative Technique (C21)
Deep Gnome Terramancer (CLB)
Imposter Mech (NEC)
Tivit, Seller of Secrets (NCC)
Wall of Mourning (MIC)
---
Magic Online Players Rewards (MOPR) Update
The September MOPR refresh – based on store and play activity in August – will contain foil versions of the borderless commons and uncommons from Commander Masters – including classics like Sol Ring, Path to Exile, Elvish Mystic, and Vandalblast.
These will only be available for one month, then MOPR switches to Wilds of Eldraine, so don't miss out!
For more information on earning Player Rewards, click here.
---
Alternate Play Schedule
Here's a look at the schedule of events coming up between now and Wilds of Eldraine. Each description mentions whether or not the Draft is Phantom – cards won't be added to players' collections in Phantom events.
August 3-9 – No alternate play – enjoy Commander Masters!
August 9-16 – It's time to dip into the Grab Bag with the return of Chaos Draft.
August 16-September 5 – Vintage Cube is back for a three-week run to support the Season 2 MOCS Showcase on August 26 (Phantom). But we have an extra trick up our sleeve this time:
The Return of 64-Player Single-Elimination Drafts – with Vintage Cube
We have a two-weekend gap of Premier Play at the end of August and the beginning of September, so we're bringing back an old favorite – 64-Player Single-Elimination Draft events!
Draft Vintage Cube once, win your pod, then draft Vintage Cube again with big prizes on the line.
We'll have exact scheduling and prize details in a couple weeks, but we will run these tournaments every 4-6 hours from Friday, August 25 through Monday, September 4 – so mark your calendar!
---
Technical Improvements
We found a way to get the file size back under control – starting with Thursday's patch, the installation will be under 500 MB like it was last year.
Also, we've added a minor improvement that will appeal to our growing streamer community! After arranging your MTGO windows the way you want them, you can go to the Settings menu (gear icon) and in the top-right corner click the Export button to save a file to your desktop. Then, after a fresh installation, you can click the Import button to load that file and have the client position the zones the way you prefer.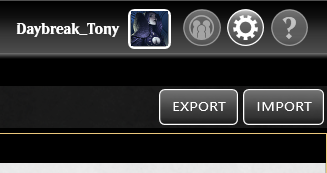 ---
Odds and Ends
Commander Masters is a non-redeemable set and is not included in New Account products.
There are no avatars associated with this set. Prestige Avatars for LTR will be provided shortly after Wilds of Eldraine begins in September.
We'll see you on the battlefield!
The Magic Online Team
---
P.S. Join Our Team
The game team of Magic Online has been growing over the last several months, and we're looking to expand some more! Check out Daybreak's careers page – most jobs are found by filtering the location to Washington, though you can apply if you are (or can become) legally able to work from Washington state, California, Texas, or New York.