Magic Online Weekly Announcements, January 17, 2023
Posted on Jan 17, 2023
Community Links: MTGO Forums - MTGO Discord - MTGO Twitter
---
2022 SEASON 3 MOCS SHOWCASE THIS SATURDAY!
Tune in as eight of Magic Online's best players compete for their share of $70,000 and two invitations to the 2023 World Championship! The broadcast begins this Saturday, January 21, at 10 a.m. Pacific (18:00 UTC) on twitch.tv/magic. Join Cedric Phillips, Carmen Handy, Haiyue Yue, and Mani Davoudi for all the action in Vintage Cube and Modern!
Learn more about the Showcase in this  Viewers Guide article.
---
DOMINARIA REMASTERED ON MTGO JANUARY 26
Between next Thursday's downtime and the start of Phyrexia: All Will Be One, we will be featuring the all-reprint set Dominaria Remastered (DMR). Magic Online will be treating that set as a cross between Cube and Standard – that is:
Boosters will cost $3.99 USD, the same as a Standard set.
Both a Draft league and a single-elimination queue will be offered, but they are keeper and cost the same as those of a Standard set.

The events kick off immediately following downtime and run only until ONE events start at 10 a.m. PT (18:00 UTC) on February 7.

Treasure Chest contents will be updated with Dominaria Remastered included once we come up from downtime - be sure to look for the usual suite of extended-art and borderless cards!
Due to some technical limitations, we have removed borderless and retro commons and uncommons from DMR boosters (the slot where those would have appeared will revert to a regular common slot). We are shifting that group of cards to Magic Online Player Rewards – more details to come in our ONE article on January 26.
Finally, rarity downshifts for DMR will apply right after downtime and will affect the Pauper Qualifier event the following Saturday.
---
PRELIMINARY-CHALLENGE SCHEDULE UPDATE STARTING JANUARY 27
We have heard plenty of feedback from players (particularly from the Asia-Pacific region) who want as much top competition as possible around the clock. 
To help with this, we are re-arranging the weekly schedule by upgrading two Preliminaries on Friday nights (Pacific time) to small Challenge events, plus adding another on Saturdays, starting next weekend (January 27):
Modern Challenge 32 (includes Top 8 playoff)

Friday 6pm PT (Saturday at: 02:00 UTC / 11:00 Japan / 13:00 AEDT / 15:00 NZ)
Saturday 6pm PT (Sunday at: 02:00 UTC / 11:00 Japan / 13:00 AEDT / 15:00 NZ)

Limited Challenge 32 (6 Swiss rounds of Sealed, no playoff)

Friday 4pm PT (Saturday at: midnight UTC / 09:00 Japan / 11:00 AEDT / 13:00 NZ)
---
TWO SUPER QUALIFIERS FOR CYCLE 3 REGIONAL CHAMPS THIS WEEKEND
Your first chances to earn an invitation to tabletop's Regional Championship Season 3 come up this weekend. The Modern Super Qualifier is on Saturday, January 21, then the Limited Super Qualifier follows on Sunday, January 22.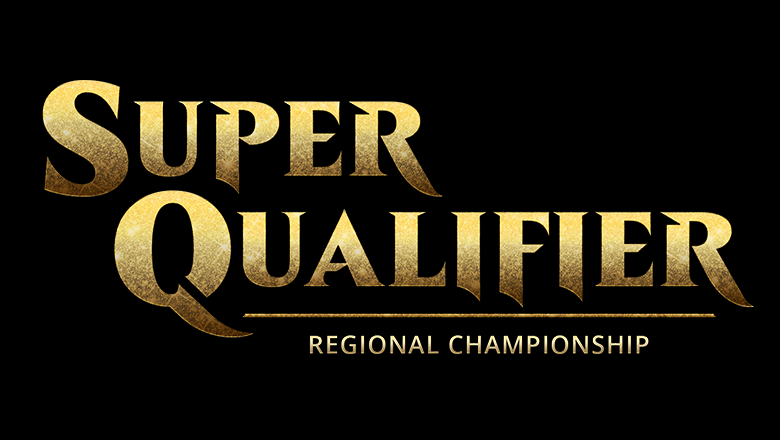 Start time of 7 a.m. Pacific (15:00 UTC) both days
The Limited event features The Brothers' War (Sealed Deck with Top 8 Draft)
Each event's entry options are 40 Event Tickets, 400 Play Points, or 40 MOCS Season 1 Qualifier Points. 
The Top 4 finishers earn seats to the second Regional Championship of 2023 serving their country of residence (held in late spring), and prizes pay out to the Top 128!
Click the Premier Play Information link at the top of this Blog for full details. For more details on tabletop Regional Championships, visit magic.gg.
---
NEW MTGO.COM FEATURE – DECKLIST FILTERING
Thanks to some feedback from our Twitter page, our web team has provided an improvement to the Decklists page at MTGO.com - you can now filter the current month's listings by format and/or event type.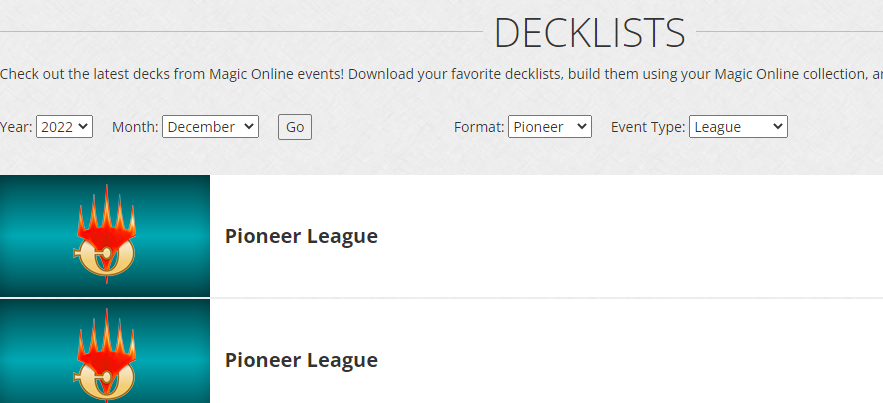 Whether it's the latest Pauper Challenge, Modern Leagues, or all Showcase events you want to see, the new filters get you there faster – check it out today!
---
VINTAGE CUBE CONTINUES – ONE WEEK TO GO
Our most popular format continues until January 26! As usual we will have a regular Swiss draft league and a single-elimination draft queue. Entry options for both events are 10 Event Tickets, 100 Play Points, or 1 Vintage Point. 
Cube design maven Carmen Handy has all of the latest updates in this article – give that a read if you haven't already! The full card list with changes can be viewed at this page.
---
REDEMPTION UPDATE
Redemption Tokens for The Brothers' War and Dominaria United are now on sale in the MTGO Store. The Dominaria United Tokens are down to about one-fifth of their original stock – when supplies run out, they're gone for good!
For more details on the redemption program, click here.
---
THE BROTHERS' WAR ON MAGIC ONLINE
Our latest set, The Brothers' War, is ongoing. Check out the dedicated article to learn all about everything new with the release:
The Brothers' War boosters and Commander decks
Updates to the MTGO Store
The latest suite of avatars
---
MAGIC ONLINE FORMAT CHALLENGES EVERY WEEKEND
Format Challenges are the first step toward qualifying for Premier Play through your favorite Magic formats and provide excellent prizes for those looking to test their mettle in their favorite formats. Learn more about Premier Play qualification to get started today.
Magic Online's Format Challenges run once on Saturdays and once on Sundays for each Constructed format! On weekends featuring Showcase Challenge events, the Format Challenge that starts at either 6 a.m., 8 a.m., or 10 a.m. Pacific time is pre-empted by the Showcase Challenge; Format Challenges scheduled at other times remain in place.
NOTES:
Pauper and Vintage Challenges are never pre-empted.
Saturday Legacy Challenges require 32 players and give prizes to the Top 32.
Sunday Legacy Challenges require 64 players and give prizes to the Top 64.
32-Player Limited Challenge events are 6 rounds with no playoff
64-Player Limited Challenge events are 7 rounds with no playoff
Check out the Magic Online Format Challenges page for further event details.
---
NEXT SCHEDULED DOWNTIME – JANUARY 26
The next scheduled downtime is planned for Thursday, January 26 beginning at 9 a.m. PT (17:00 UTC). This is for the implementation of Dominaria Remastered and Phyrexia: All Will Be One. Reminder: Events for the latter do not start until February 7.