Magic Online Weekly Announcements, November 14, 2023
Posted on Nov 14, 2023
Treasure Chest Information  UPDATES AT 10 A.M. PT TODAY
MTGO Community Links: Forums  Discord  Twitter/X  Facebook  Instagram
MTGO Official Channels: Youtube Twitch
---
THE LEAD
The Lost Caverns of Ixalan
 on Magic Online​ - Today! 
It's time to descend below the surface of our tropical plane and discover a wondrous world! The Lost Caverns of Ixalan surfaces on MTGO at 10 a.m. PT (18:00 UTC). Check out our traditional set article for full information: 
The Jurassic World Bundle

 

20 All-New Cards & 12 Lands for $35 USD

 

The return of the Deck Brewer's Pass

 

13 Days of All-Access for $25 USD!

 

Event Updates, including news on how to use leftover Qualifier Points at season's end

 

See the grid at the bottom of the Blog for updates to Format Challenges

 

A UI improvement in tracking floating mana

 

UPDATE: An additional fix has gone in to allow auto-consumption of mana as before.

 

Booster Fun, a

Treasure Chest

update, and more

 
Redefining "Premium": New Foil Tech & Neon Ink
Last week's patch brought the arrival of a new look and feel for foil cards in Magic Online – check out the Collection scene to see the new shinies! 
On top of that, MTGO debuted a fabulous new premium treatment on the Cosmium Neon Ink versions of Mana Crypt and Cavern of Souls! 
Check out the article from Associate Product Manager Aaron Penfold for all the details on how to get your own copies of the Neon Ink cards starting on Cyber Monday, November 27th.
Reaction by Anuraag Das
---
NEW UNIVERSES BEYOND PRODUCTS
Welcome to Jurassic World – Today! 
A special collaboration with one of the largest and best-known film franchises in history is on the horizon – the Jurassic World Bundle on MTGO! This digital box contains 20 brand-new card designs featuring dinosaurs, characters, and settings that have entertained millions for over 30 years. All of your favorites are here – the iconic Tyrannosaurus Rex, the massive Mosasaur, Ian Malcolm, Owen Grady (partnered with Blue), plus many more.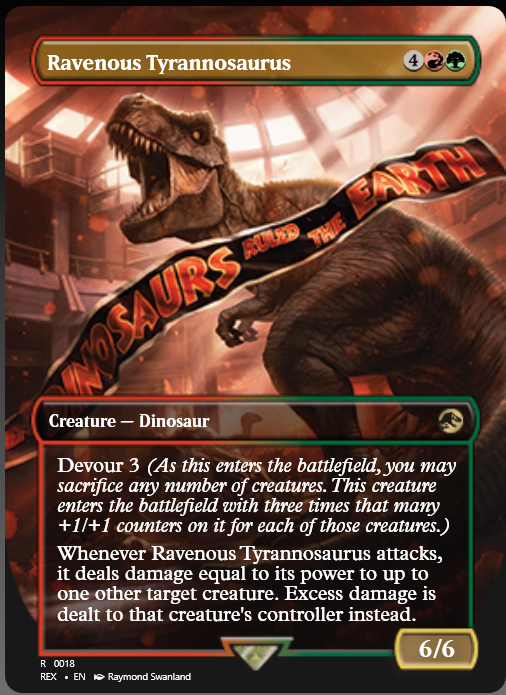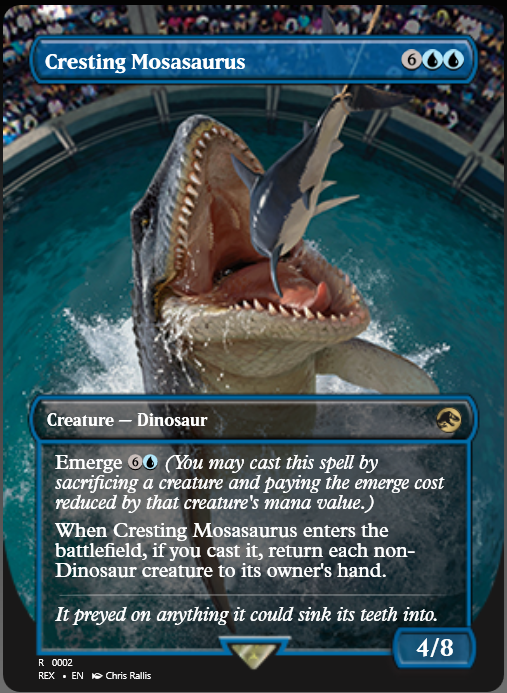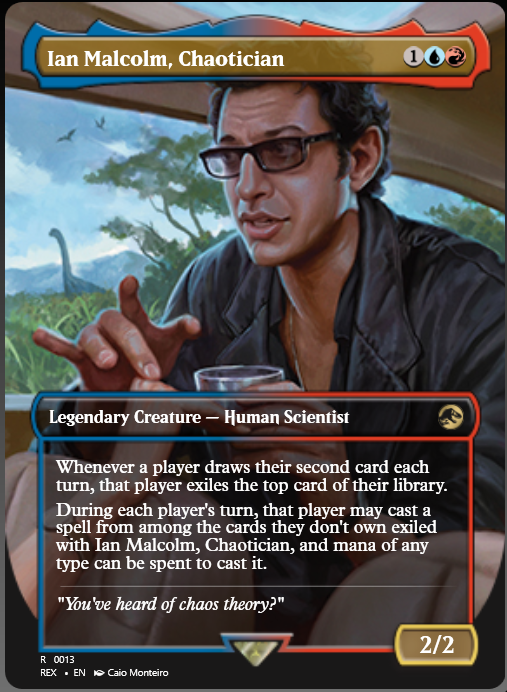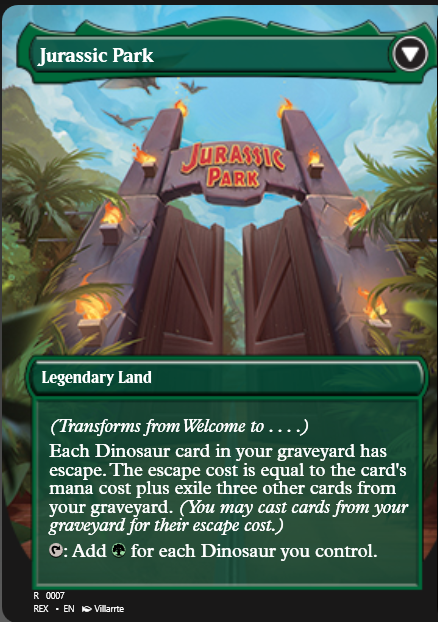 The Bundle also features one copy of each of 12 land designs (two of each color, plus two Command Towers) that showcase settings across the franchise's history. This package of 32 digital cards will be on-sale in the MTGO Store for $34.99 USD starting today at 10:00 a.m. Pacific time (18:00 UTC).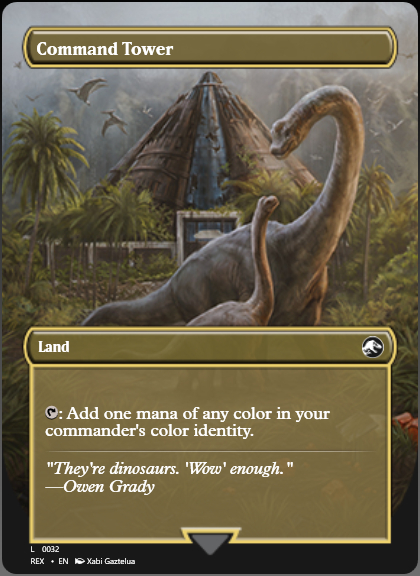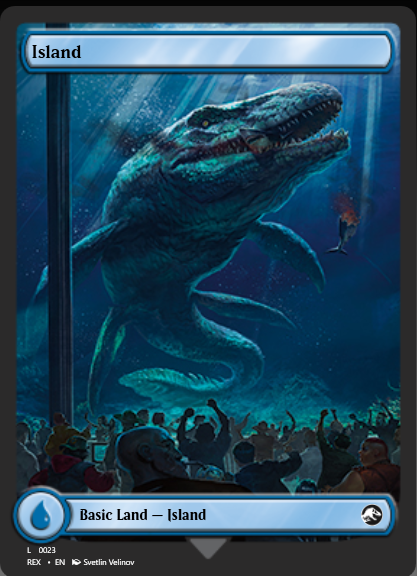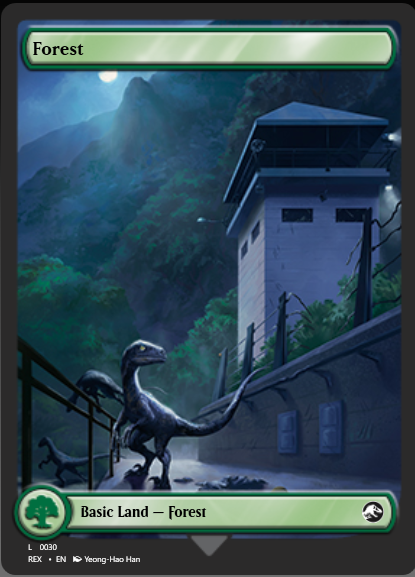 Cards in the Jurassic World Bundle will not be made available in Treasure Chests and are not included during All-Access periods. The Bundle is only available until the release of Murders at Karlov Manor in early February – be sure you don't miss out!  
Jurassic World Franchise © 2023 Universal City Studios and Amblin Entertainment, Inc. All Rights Reserved. 
The Lord of the Rings: Tales of Middle-earth

™ 

Special Edition 

on 

Magic Online

​

 



MTGO fans are in for a unique treat – the beautiful Scroll frame featured in tabletop Collector Boosters will be draftable online! Collect all of your The Lord of the Rings: Tales of Middle-earth™ favorites in a Special Edition booster going on sale tomorrow following downtime.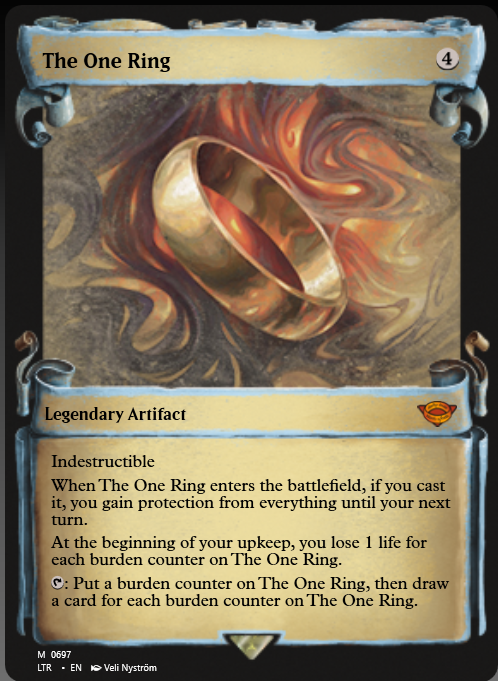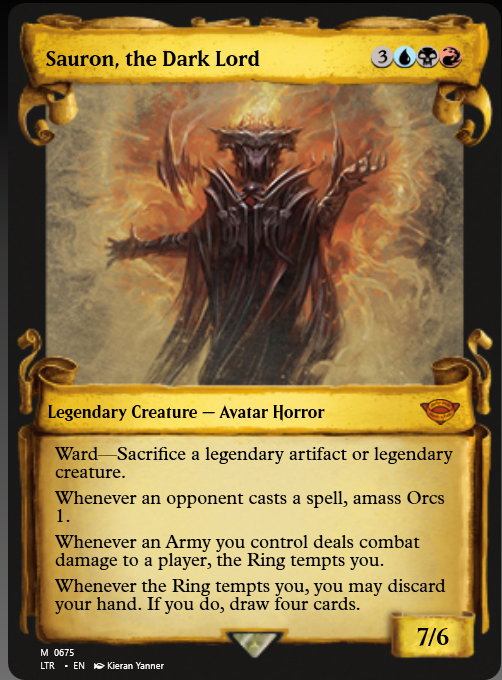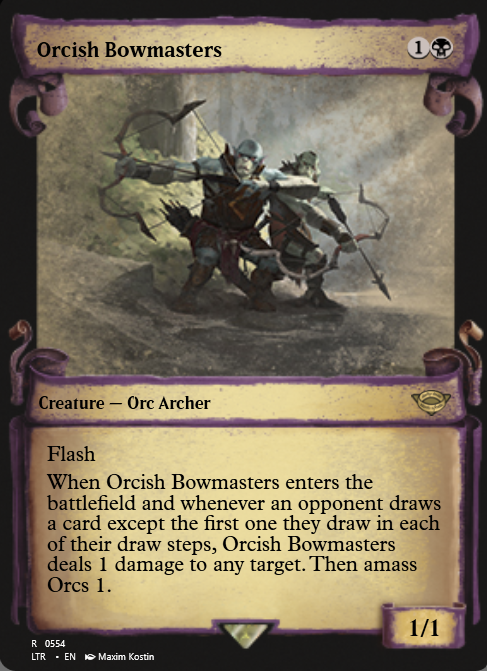 Each booster is $4.99 USD in the Magic Online Store and contains the same product mix as the original booster, but with all cards from the main set replaced by Showcase Scrolls of Middle-earth versions. Many of your Booster Fun favorites from The Lord of the Rings: Tales of Middle-earth will also be available to add to your Collection.​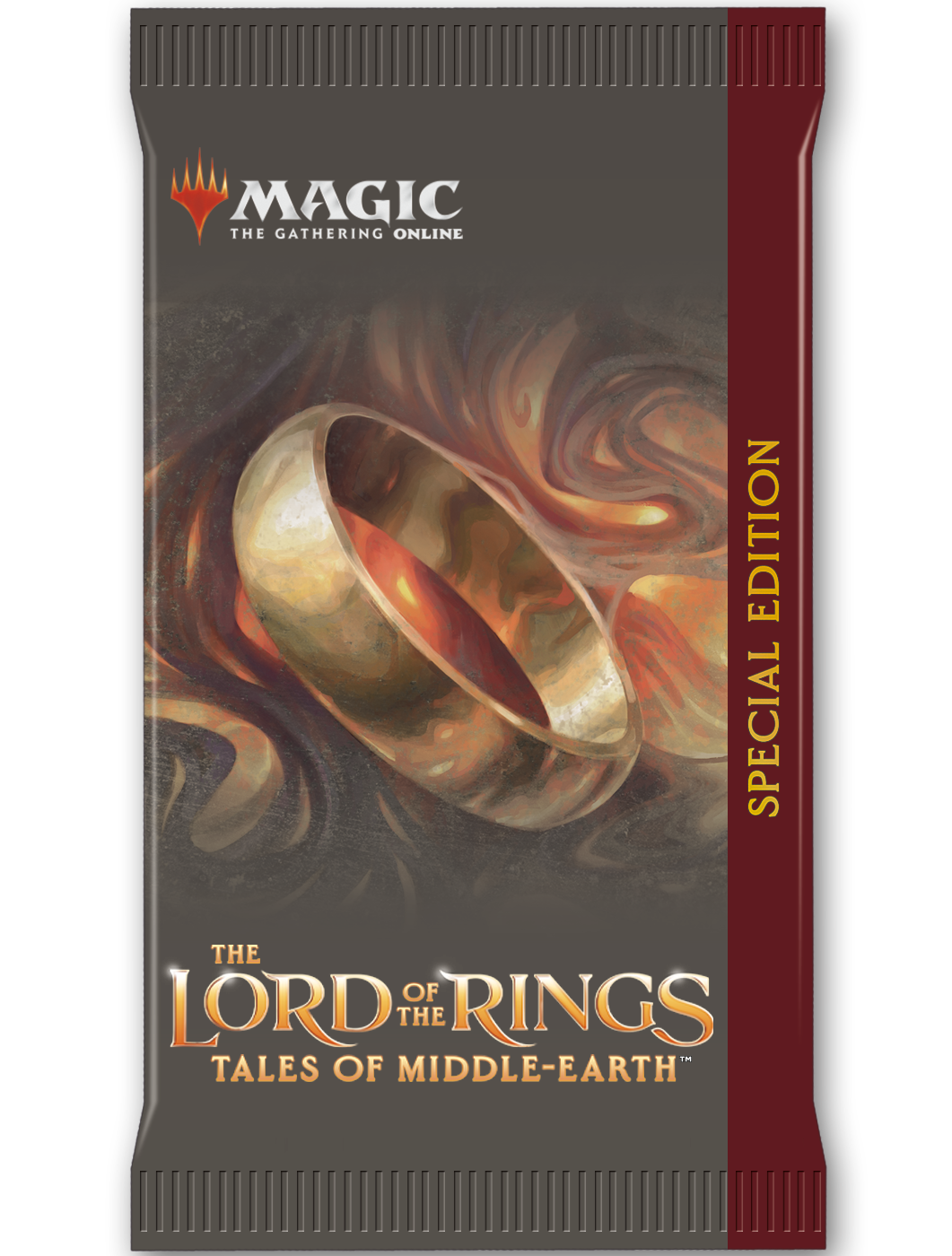 Additionally, all of the Booster Fun cards from tabletop's holiday release - the 24 cards comprising tabletop's Scene Boxes, the 5 new cards from Jumpstart, the poster cards, the Borderless Brothers Hildebrandt cards, and Showcase Scrolls of Middle-earth versions of Commander cards - will be available in Treasure Chests starting on November 14 when the next set launches. 
Draft Leagues featuring The Lord of the Rings: Tales of Middle-earth™ Special Edition continue until November 22.​ Booster entry options will allow for either 3 original LTR boosters or 3 LTR Special Edition boosters plus 2 Event Tickets. Prizes will be in LTR Special Edition boosters. 
​Art ©Greg and Tim Hildebrandt – All Rights Reserved. © 2023 Middle-earth Enterprises. Tales of Middle-earth and The Lord of the Rings and the names of the characters, events, items and places therein, are trademarks or registered trademarks of Middle-earth Enterprises, LLC used under license by Wizards of the Coast LLC. All rights reserved. ©2023 Wizards of the Coast LLC 
---
QUALITY-OF-LIFE IMPROVEMENTS
We have a number of additional UI improvements the team was able to crank out over the last couple of weeks that'll make a big difference once you download today's patch after 9 a.m. PT (17:00 UTC).
Set Timers in Casual Play
You will be able to select the number of minutes each player receives when setting up Open Play, Tournament Practice, and Buddy Challenge matches! And for the first time in MTGO's history, you'll be able to shift between 15 and 60 minutes in increments of five.
Here's what the new screen looks like after clicking Create for Open Play or Tournament Practice: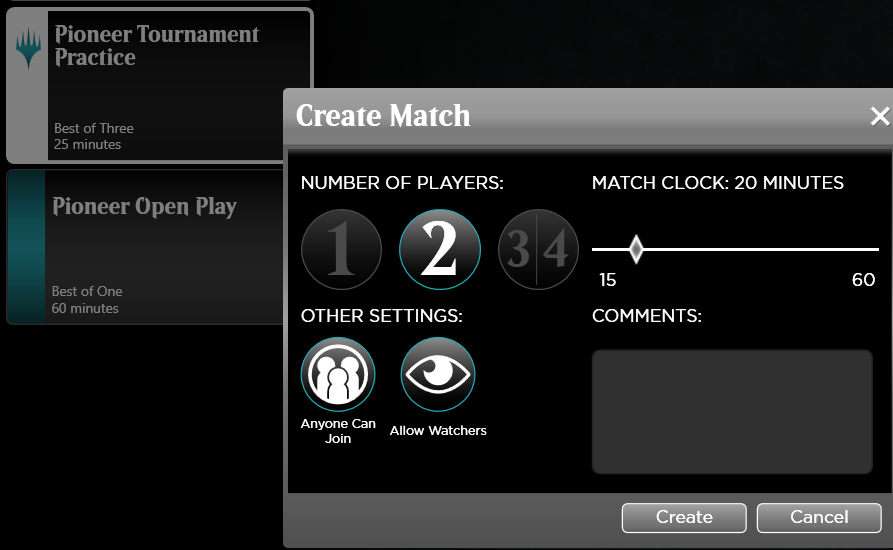 For Buddy Challenges, the interface is similar and has been refreshed: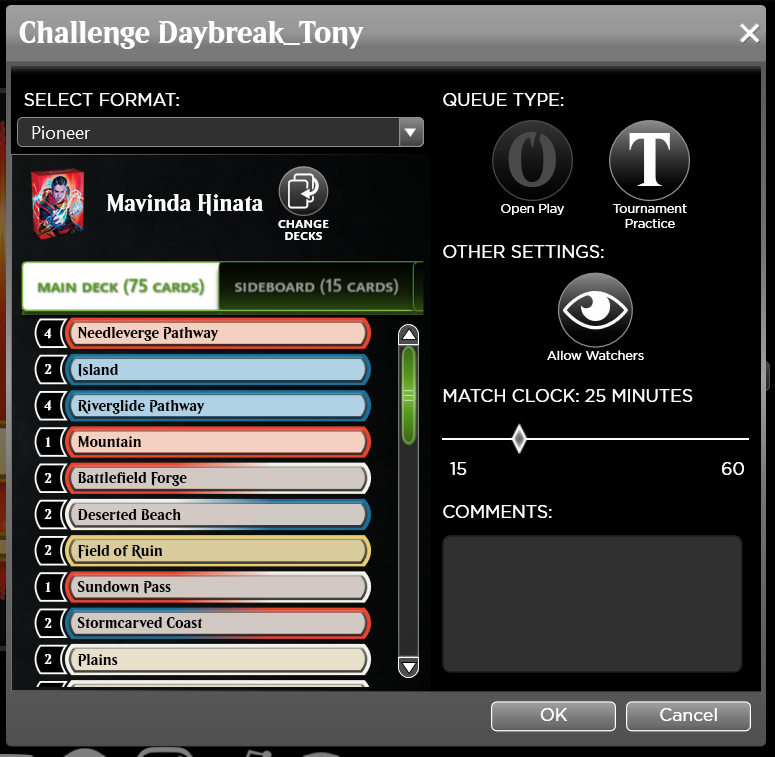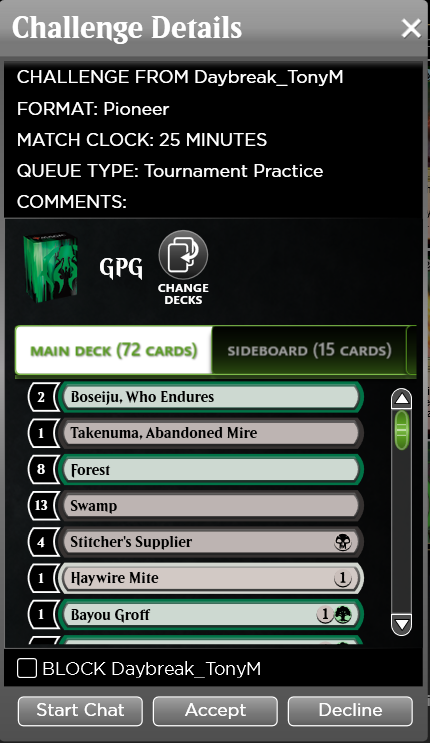 So whether you want to have a speedy Commander game or want to give a buddy who's learning MTGO's ropes more time, this new feature will be a great benefit.
Prompt Box Highlights When You Have Priority
At MagicCon we spent a fair amount of time watching how new players learn to play, and we noticed that it was sometimes hard to tell when it was their turn to act. So to make priority more apparent to players, we have added some blue highlighting around the prompt box on the left side of the Duel Scene.
Space Bar Can Be Keybound
Another long-wanted request has been added – the ability to bind the Space Bar to an action in the same way as the 1, 6, 8, and other keys can be. To make this adjustment, click Settings (the gear icon), then Input Settings, then make changes there.
Once you're happy with the setup, remember to Export the settings file (at the top-right of the Settings window) to your Desktop so that after reinstalling the client later, you can Import them to get your preferences right in a snap.
---
MTGO BROADCASTS
Super League Season 1 Champion Crowned Tomorrow!
One of Magic Online's most popular streams is back – Super League Season 1 wraps up with coverage of the Top 4 starting tomorrow at 1 p.m. PT (4 p.m. ET / 21:00 UTC). Catch all the action at twitch.tv/officialmagiconline or twitch.tv/anzidmtg.  
16 Magic celebrities took on the evolving Modern metagame over the past 12 weeks, and now we are down to the last four!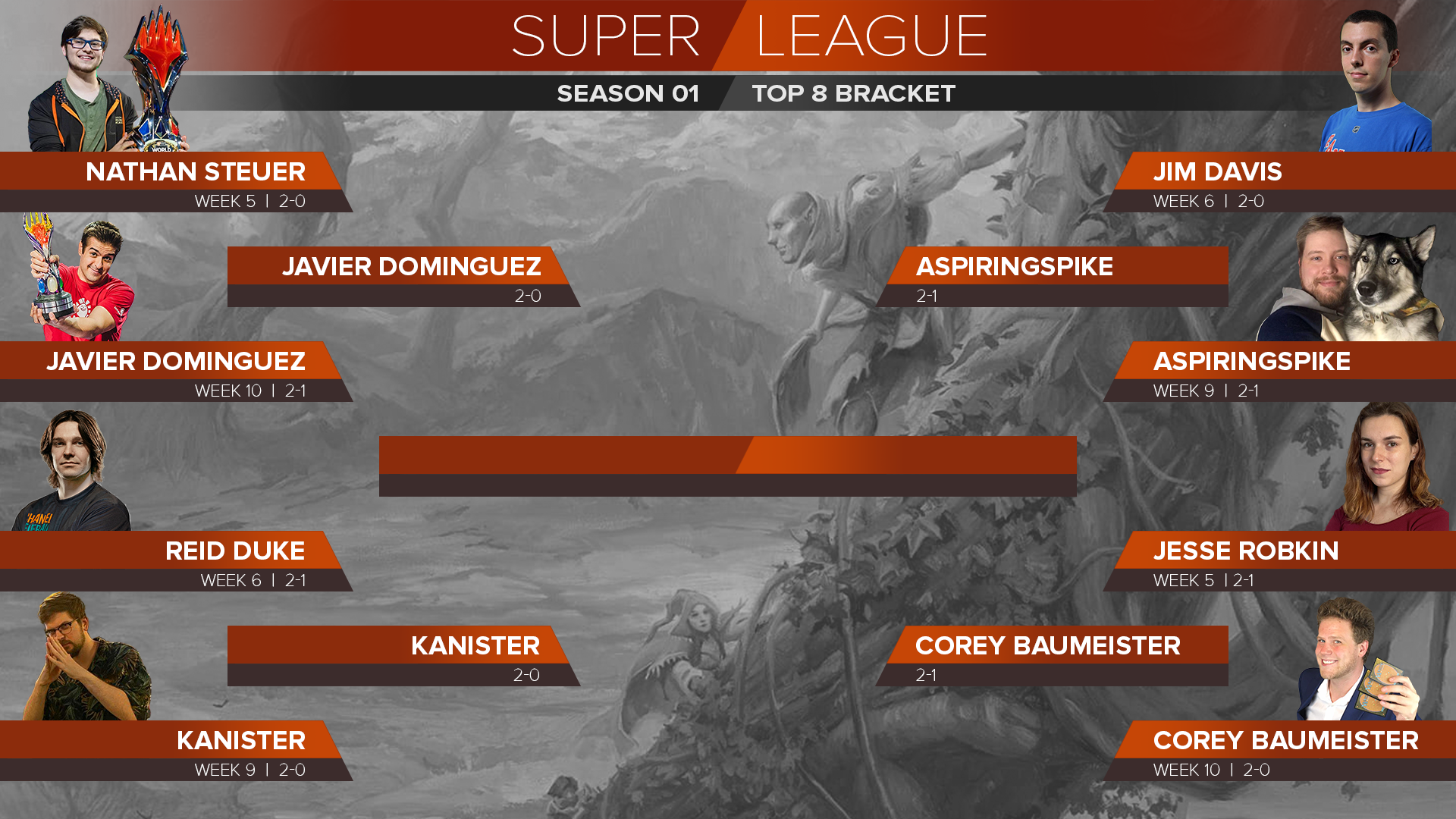 Aspiring Spike, Corey Baumeister, Javier Dominguez, and Kanister will enter the semifinal round, then the winners will battle one final time to determine the Season 1 Champion. 
Super League glory is within reach! Tune in tomorrow to check out who takes the tournament down. 
---
PREMIER PLAY
It's Showcase Challenge Weekend
We're closing in on the end of qualifying for MOCS Season 3, so it's time for another group of players to earn seats for the next round of Showcase Qualifiers in December.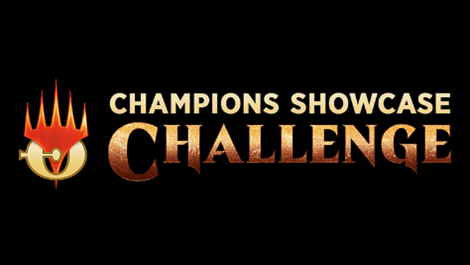 It takes 40 Season 3 Qualifier Points to enter a Showcase Challenge. The Top 8 finishers in each event earn a Championship Entry Token for the event's format plus earn Leaderboard Points toward an At-Large berth in the next Showcase! 
Due to the growing popularity of these events over the past year, we have increased the prize pool for Showcase Challenges starting with this season – prizes now go down to 128th place! The increases are: 
Regular full set for players finishing in 9

th

-16

th

places

 

Regular full set for players who finish the Swiss rounds with an X-2 record

(only 2 match losses)

 

The sets for X-2 will be granted by Customer Support in the week following the event

 

Prizes for 33

rd

-64

th

places increased to 200 Play Points and 10 Treasure Chests

 

Prizes for 65

th

-128

th

places added – 150 Play Points and 5 Treasure Chests

 
Here are the dates and times for this weekend's events: 
| | | | |
| --- | --- | --- | --- |
| Date | Time (PT) | TIME (UTC | EVENT |
| Saturday, November 18 | 8:00 a.m. | 16:00 | Modern Showcase Challenge |
| Sunday, November 19 | 6:00 a.m. | 14:00 | Pioneer Showcase Challenge |
| Saturday, November 25 | 6:00 a.m. | 14:00 | Standard Showcase Challenge |
| Sunday, November 26 | 8:00 a.m. | 16:00 | Legacy Showcase Challenge |
For more information on these events, click the Premier Play Information link at the top of the Blog. 
End of MOCS QP Season Approaching
The last day to earn MOCS Qualifier Points for this season is coming up on Wednesday, November 29. Between now and then you'll have a few different ways to spend them:
The Showcase Challenges mentioned above
A Limited Super Qualifier on Black Friday, November 24
Last Chance Events Sunday-Wednesday November 26-29

These events require 30 Event Tickets or 300 Play Points in addition to 40 QP
And as a reminder, leftover Season 3 QPs will be usable to enter Vintage Cube during its Holidays run from December 20-January 3.
Challenge Update
Our new Pioneer Challenge on Fridays proved to be quite popular last week! It's being upgraded to a 64-player structure starting this week. For more details, see the Format Challenges section below.
---
ALTERNATE PLAY
LTR Special Edition Draft Continues
As mentioned above, Draft Leagues featuring The Lord of the Rings: Tales of Middle-earth™ Special Edition are underway but will be featured for just two weeks until November 22. Entry and prizes will mirror those of the LTR Swiss Draft queue ending tomorrow, and there's an additional entry option of using original LTR boosters instead of Special Edition boosters. 
NEW - When Is Vintage Cube Back?
A new regular feature of the Blog, this item will mention when the next scheduled run of our most popular event will take place: 
Current Cube version

: 64-Player Events only - November 22-29

 

Refreshed Cube: Holiday Festival 2023 starting December 20

 
---
WEEKLY UPDATES
Treasure Chest Update
Treasure Chests will update around 10 a.m. PT today – be sure to watch our Twitter/X (@MagicOnline) and our Discord channel to confirm this before opening Chests. 
For full details on the changes, check out the Treasure Chest information page.  
After today, the next Treasure Chest update will occur on Wednesday, December 13. 
Redemption Corner
We've updated our Redemption page with new quantity percentages. 
WIlds of Eldraine redemption tokens are now available in the MTGO Store. The Lost Caverns of Ixalan is currently slated to go on-sale the first week of December – exact date TBD. 
IMPORTANT: As of May 23, all new orders of Redemption Tokens are non-refundable!  
Two-Factor Authentication Is Now Live – Protect Your Account Today!
A long-requested security feature is now part Magic Online – check out Ryan Spain's article to learn the why, what, and how to put Two-Factor Authentication into effect to help protect your account!
Magic Online
Format Challenges Every Weekend
Format Challenges are the first step toward qualifying for Premier Play through your favorite Magic formats and provide excellent prizes for those looking to test their mettle in their favorite formats. Learn more about Premier Play qualification to get started today. 
Magic Online's Format Challenges run as shown on the schedule below.  
On weekends featuring Showcase Challenge events, the Format Challenge that starts at either 6 a.m., 8 a.m., or 10 a.m. Pacific time is pre-empted by the Showcase Challenge; Format Challenges scheduled at other times remain in place. 
NOTES: 
The number in the title represents the minimum fire size and the lowest place to receive prizes.

 

In MOCS Season 3, Vintage and Pauper Challenges are never pre-empted.

 

32-Player Limited Challenge events are 6 rounds with no playoff

 
Check out the Magic Online Format Challenges page for further event details. 
---
PATCH NOTES – November 14, 2023
Quality-of-Life
Refreshed casual match setup screens for Open Play, Tournament Practice, and Buddy Challenge
Added a timer-slider for casual matches
The Space Bar can now be used for key bindings
A blue highlight will appear around the Duel Scene's prompt box whenever priority is on you
A restart will no longer be required to apply changes to foil animation settings
The maximum deck size has been reduced from 1400 to 600
Card Fixes
Laelia, the Blade Reforged will correctly gain counters equal to all cards exiled via cascade
Fire Covenant and Bond of Agony will no longer be able to cause games to reset
---
NEXT SCHEDULED DOWNTIME – January 17, 2024, 9 a.m. to Noon PT
The next downtime, the next scheduled maintenance will be Wednesday, January 17 from 9 a.m. to noon PT (17:00-20:00 UTC). This is to support the release of Ravnica Remastered.