Redefining "Premium": New Foil Tech Put to Great Effect
Posted on Nov 08, 2023
By Aaron Penfold
Hi friends! Before we dive in, make sure to check out Product Manager Tony Mayer's article about The Lost Caverns of Ixalan, Magic's newest set. It comes to Magic Online next week, and the article goes over all the important dates and elements of LCI. Well, most of them! We've got some cool details related to LCI here as well, but we'll get to that later. After these other cool details, of course: 
Sparkling Memories ...
There are so many amazing moments in Magic. Competitive gameplay, fun matches with new friends, noticing the incredible art, and realizing each card tells a story. Another moment to savor is the process of cracking open a fresh booster. You tear it open (definitely not with your teeth) and that fresh booster smell hits you as you thumb through the cards one by one. Suddenly … shiny! You hold it up to admire in the light, slowly tilt it back and forth, watch how it shimmers and shines, then think about to which Commander deck it could add some bling.
MTGO does a fantastic job recreating a lot of those amazing tabletop moments I mentioned, but we've long wanted to invest some time into our presentation of premium cards and improve that tabletop "foil feeling" on Magic Online, and we're happy to say that we found that time! With today's update, we've changed the way we produce our foil treatments to utilize tech that gives us a higher-resolution effect at a faster framerate for the same performance costs. However, the new tech won't just improve the overall quality of the Magic Online foil effect, it will revolutionize what a "premium card" can be on Magic Online!
Below are before-and-after sequences of a variety of cards with the previous foil effect (left) and with the new foil effect (right), both with and without animation on:
We already feel this is an overall improvement to our foils, but we are not done! For starters, we will be listening closely to feedback about the new effect, and iterating on it with community input through the forums, MTGO Reddit, Discord, etc., and make any adjustments to speed, intensity, and style we feel are appropriate after everyone has had the chance to check it out in-game for a bit. We also have an infrastructure improvement in our plans for next year that will allow us to utilize the hand-crafted areas of matte finish on tabletop premium cards in the crafting of Magic Online foils, which will make them better still!
In the meantime, we are now able to play in exciting "premium" design space we've never had access to before! The dev behind this change is going to tell us all about it, and then we'll show you what we did first with it!
Meet the Dev - Cody
Now that you've seen the new foil effect, here's a conversation I had with Cody Hubbard, one of our newest team members and the software engineer that implemented this new look, on how the new effect made its way into the game today:

---
Aaron: Hey Cody! Thanks for taking some time to chat with me. First off, I'm curious about your background. How long have you been with Daybreak Games and what brought you there?
Cody: I'm just your average software developer making their way in the world. I've been working as a developer for about 5 years, but I just joined Daybreak Games this summer as part of the company's initiative to bring more developers onto the Magic Online project.
This is actually my first job at a game company, and as a huge games enthusiast I'm incredibly excited to be working on MTGO! I specifically work on all kinds of things related to the game client. Think card rendering, user interfaces, that kind of stuff.
A: Yeah, it's great to be able to work on something you're passionate about. Speaking of which, you played a key role in implementing the new foil treatment effect. How did that come about?
C: I'm a huge fan of the premium treatments that Wizards of the Coast puts on Magic cards. Full-arts, galaxy foils, oil slick foils, neon ink, etc. The idea of collecting awesome looking cards just appeals to me. I've always thought the card effects in Magic Online had a lot of room for improvement, so after starting my work on the client I took note of the way foils were being done.
When the MTGO engineering team had a chance to work on personal projects for a week, I knew I wanted to work on updating the foil effect as my project. I thought it would be a cool way to bring some more modern tech into the client as well as improve the collectability element I like so much.
A: Very cool! Yeah, I think it's really great that the team has some occasional "discretionary time" where you're able to spend time working on a project of your choice. It's a great opportunity to try out some new ideas and expand your skillset.
Could you tell me a bit about that modern tech you mentioned? I heard a rumor that there were research papers involved.
C: After doing some investigation and talking with coworkers, I determined that we could actually use shaders in the Magic Online client, which was huge. Shaders, in short, are programs written to work on a computers graphics card and usually have to do with how graphics are rendered. I've always had an interest in computer graphics and I have a background in math, so working with shaders was really exciting to me.
From there, the work just became researching the best way to accomplish the specific effect I wanted, which in this case was mimicking thin-film interference (aka, the shiny see-through effect on foil cards). Tons of research in the math & computer graphics fields has been done on shaders, so there were a lot of resources available for me to read through. It really felt like a "standing on the shoulders of giants" situation.
A: Wow, it sounds like you have a genuine passion for bringing the physical aesthetic (and beyond) of Magic cards to the digital space. Speaking of the "beyond," you also worked on a special treatment beyond the base foil effect. Could you go into the differences between that custom treatment and the typical foil effect?
---
Alright, before we finish up that conversation, let's take a break and go over those cool LCI related details I mentioned earlier!
A Shade Over Expectations
Like Cody mentioned, beyond using shaders for the general foil revamp, we're also exploring other areas to use shader effects. Our first use of that new tech has been implemented alongside LCI, where we're debuting unique effects/foiling on certain cards, starting with the Neon Ink Mana Crypt and Cavern of Souls cards that can be found in the Lost Caverns of Ixalan physical Collector booster packs.
Introducing Cosmium Neon Ink Mana Crypt and Cosmium Neon Ink Cavern of Souls!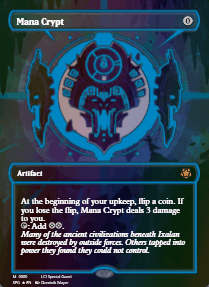 When we first started exploring with shaders, we knew that the Neon Ink Mana Crypt and Cavern of Souls cards were the perfect place to start. Such gorgeous cards deserve to be shown off in Magic Online like they would be in person. Cody worked with Creative Director Ryan Spain, with guidance from fellow devs Chris Bellach and Cam Barber, and crafted each version to have specific areas that radiate light and morph colors. Just like the physical versions that will be available, both cards have five different "monocolored" versions representing each color of WUBRG. Additionally, the tri-color versions of each are making their way to MTGO as well!
Here's Cody with more about this treatment:
---
Cody: The easiest way to understand the difference between the two effects is to understand the difference in the physical cards, as the physical cards are what I tried to model. Neon ink is actually a separate layer printed on top of the classic foil, so I created a new effect and layered that on top of the existing foil effect.
Exploring how the effect would animate its transition and 'glow' was definitely the most interesting, fun, and challenging part.
A: I think you really knocked it out of the park. The effect looks incredible, and everyone that's seen it so far really loves it. Are there any other card effects that you'd like to experiment with, given the chance?
C: If I could work on a past release, I would love to do something special for the oil slick foils in ONE as I think the Phyrexian cards are super cool. Really though, I'm just excited to have the space to explore more unique shader effects moving forward and determining how we can use them to make cards look as cool as they do in paper MTG.
A:  Looking ahead, how do you envision using this technology beyond foil effects?
C: Shaders really open up the possibility of making a lot of the client feel a bit more modern, a bit more like a 'video game'. I hope to apply this tech to lots of places, hopefully improving the aesthetic and usability of the client wherever it makes sense.
A: For sure! I've loved seeing some of the areas for shader usage that you and Ryan have been exploring. I'm super excited for some of the UI/UX quality of life improvements that have been prototyped to eventually make their way into the game.
Thanks again for taking the time to chat with me, and fantastic work on these new effects. Anything extra you'd like to add or mention?
C: I wouldn't have gotten very far on this project without the assistance of my coworkers Chris and Cam, so special shoutout to them for their help and guidance.
---
Neon Ink Bundles on Cyber Monday!
These top-of-the-line treatments of Mana Crypt and Cavern of Souls will be available in bundles starting at 10 a.m. PT (18:00 UTC) on Cyber Monday, November 27.
The Cosmium Neon Ink Bundle sells for $20 USD and includes 1 premium foil copy of each of the two cards. Five different neon colors are available – one will be selected at random, then both cards of that color will be added to your Collection. Red is the rarest at 10%, then purple (15%), blue (20%), green (25%), and yellow is most common (30%). 
This Bundle will be available in the MTGO Store until the release of Murders at Karlov Manor in February. Cards obtained from this Bundle will not appear in Treasure Chests nor be available to use in any forms of All-Access. 
If you're really looking to dazzle, you'll have a chance to snag the Tri-Color Cosmium Neon Ink cards through a special giveaway this Cyber Monday. To have a shot at winning, you just need to do one of these things from Sunday, November 26th 4am Pacific through Tuesday, November 28th 4am Pacific:
Make any purchase of $4.99 in the Store
Join and Play in at Least 1 League Match
Compete in any Scheduled Event that has a start time in the above range
Doing so will enter you into a drawing for a chance to win a Tri-Color Cosmium Ink Mana Crypt or Tri-Color Cosmium Ink Cavern of Souls. 50 of each card will be given away, and eligible accounts can have a maximum of one (1) entry in the drawing (making multiple store purchases or playing multiple leagues/events does not provide extra entries).
Lucky winners will find a stunning card, with its red, yellow, and green neon flourish, added to their accounts within the same week. Remember, this offer is limited, and the cards won't be found in Treasure Chests or available with All-Access, so don't miss out on this exclusive opportunity.
Shine On!
Just like the new foil treatment, please let us know what you think! Here's hoping you reacted like Super League host Anuurag Das when MTGO Creative Director Ryan Spain gave him a first look at the new shader tech!
Thanks for reading today and happy gaming!