The Lost Caverns of Ixalan on Magic Online
Posted on Nov 07, 2023
By Tony Mayer
Welcome back Magic Online fans! As we approach the holidays, what better way to celebrate than to discover the underground worlds of The Lost Caverns of Ixalan. The return to the land of Dinosaurs, Vampires, Merfolk, and Pirates kicks off on Tuesday, November 14th at 10 a.m. Pacific time (18:00 UTC).
As usual, Constructed and Limited events will rotate to LCI versions of the same event, so make sure you complete any Leagues before the set launches.
The downtime to add this set to MTGO will happen tomorrow from 9 a.m. to approximately 12 noon Pacific time (17:00-20:00 UTC). Be sure to follow our social media outlets (Discord, Twitter/X, and more) to keep real-time tabs on this release.
Time to Descend and Explore
Features of the upcoming several weeks include improvements to the look of foil cards in MTGO, the return of the Deck Brewer's Pass, and a special opportunity to bring your favorite Jurassic World characters to Magic Online ...
Welcome to Jurassic World!​
A special collaboration with one of the largest and best-known film franchises in history is on the horizon – the Jurassic World Bundle on MTGO! This digital box contains 20 brand-new card designs featuring dinosaurs, characters, and settings that have entertained millions for over 30 years. All of your favorites are here – the iconic Tyrannosaurus Rex, the massive Mosasaur, Ian Malcolm, Owen Grady (partnered with Blue), plus many more.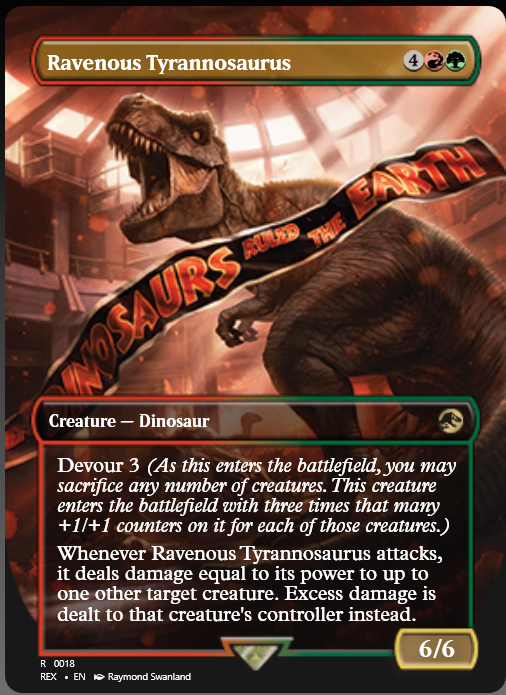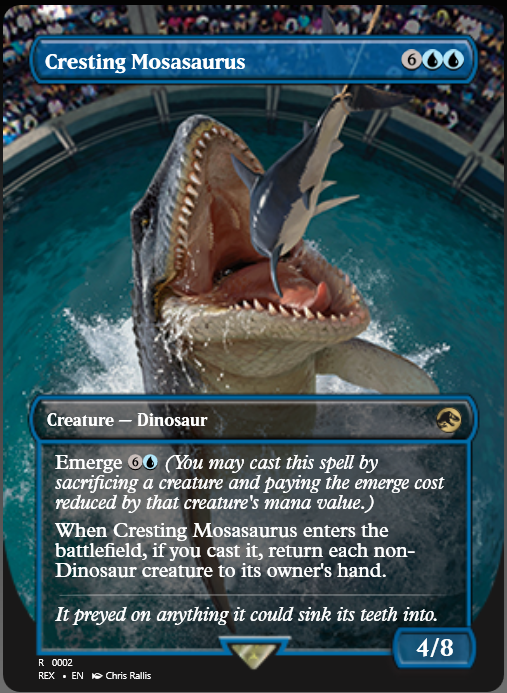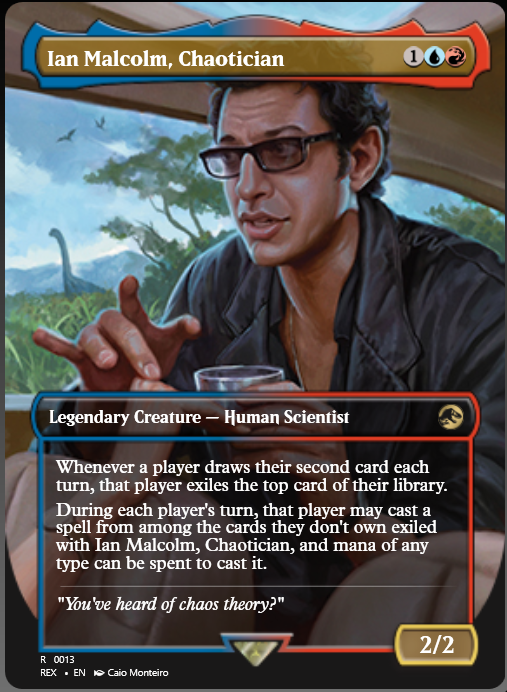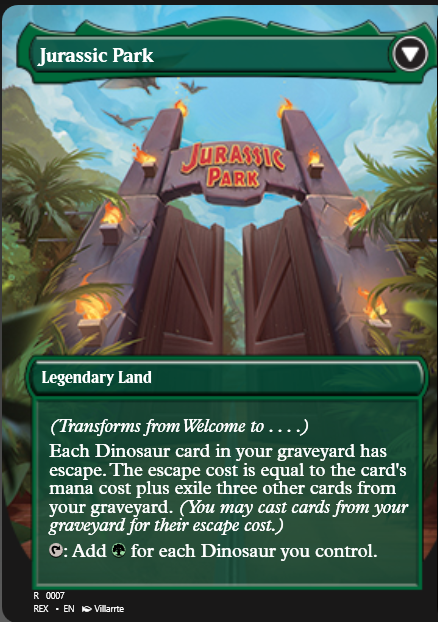 The Bundle also features one copy of each of 12 land designs (two of each color, plus two Command Towers) that showcase settings across the franchise's history. This package of 32 digital cards will be on-sale in the MTGO Store for $34.99 USD starting next Tuesday at 10:00 a.m. Pacific time (18:00 UTC).​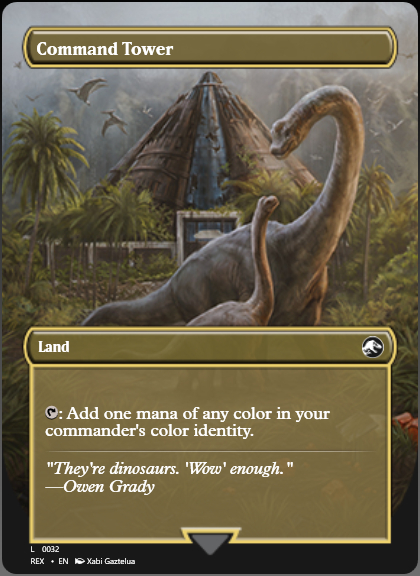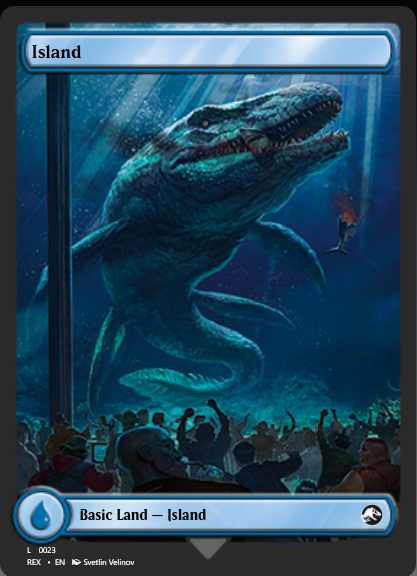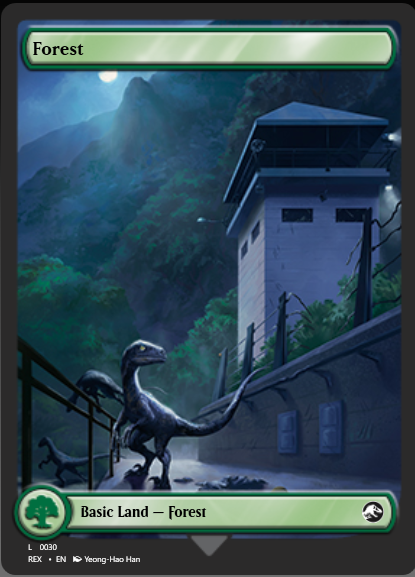 Cards in the Jurassic World Bundle will not be made available in Treasure Chests and are not included during All-Access periods. The Bundle is only available until the release of Murders at Karlov Manor in early February – be sure you don't miss out! ​
Jurassic World Franchise © 2023 Universal City Studios and Amblin Entertainment, Inc. All Rights Reserved.​
The Return of the Deck Brewer's Pass
What if you had almost two full weeks to test out your best ideas in all formats – including with the just–released card set on release day – before collecting key cards?
Now you can with Magic Online's Deck Brewer's Pass! It's a new take on All-Access that allows unprecedented usage of the newest cards in service of one goal: figuring out what cards you want to focus on collecting across all of MTGO:
Calling all Commander players! This is your chance to go wild with your ideas – throw stuff at the wall and see what sticks. You can even try variants in our Freeform Commander room.
Competitive players – this gives you the flexibility in deck choice to earn those last QPs towards entering the final events of MOCS Season 3's regular season – the Showcase Challenges.
Everybody else – it's a perfect opportunity to get your friends together and battle in all sorts of casual games or dip your toes into MTGO Leagues!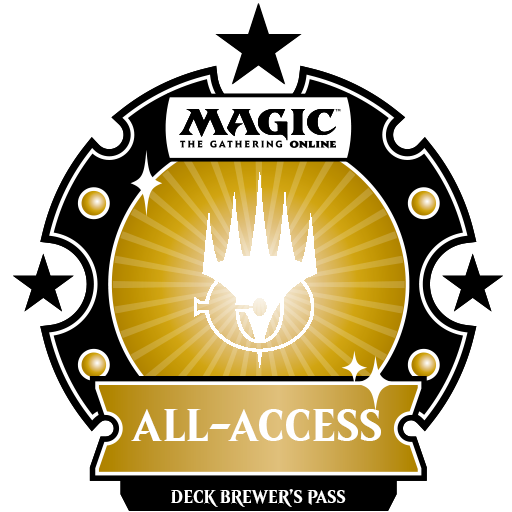 The Rare Event Token will serve as the item representing the Deck Brewer's Pass in the Store starting with the launch of The Lost Caverns of Ixalan next Tuesday morning PT. The Pass will cost $25.00 USD, and All-Access privileges will last until Monday, November 27th at 10 a.m. PT (18:00 UTC). That's right, up to 13 days of All-Access – including the Thanksgiving long weekend for those in the U.S. – from the start of the set!
To use the Pass, simply purchase it in the Store, build any legal deck in your chosen format, and enter a game or event (entry option must still be paid). No cards will be added to your collection, but you'll be able to play even if you don't have all the cards in your collection.
Unlike regular All-Access, we are not offering the option to buy a second Token to spend as a Super Qualifier entry option. So, one Pass is the most any account needs.
We'll remove all Rare Event Tokens from accounts and turn off All-Access on November 27. If you're still competing in a Constructed League when access ends, you'll be allowed to complete that course.
Note: Just like previous All-Access periods, certain cards (Secret Lair versions, TRANSFORMERS, Battlebond, and old-frame Power Nine) are unavailable. Additionally, card variants sold in Bundles (Oil Lands, Borderless Praetor-Sagas, etc.) are unavailable. All-Access doesn't apply to Limited events.
How to Collect and Play The Lost Caverns of Ixalan
Boosters
Each LCI booster pack will sell for $3.99 USD in the MTGO Store starting on Tuesday at 10 a.m. PT. The pack consists of the usual assortment of commons and uncommons, a double-faced card, a rare/mythic, and a basic land (sometimes featuring the new Core Full Art treatment). The usual rate of foils appearing – an average of once every three packs – applies to this set.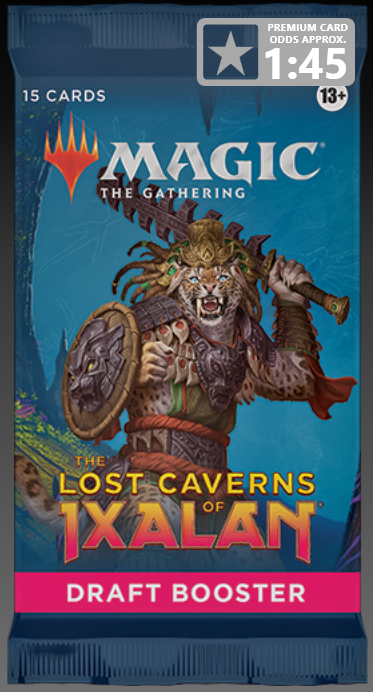 Booster Fun
Alternate-art treatments of The Lost Caverns of Ixalan will appear in many of the usual places. These include:
Treasure Trove Box Toppers, plus Extended-Art, Borderless, and Showcase Rares/Mythics (Treasure Chest)
Buy-a-Box, and the Bundle Promo (Treasure Chest)
UI Improvement - Floating Mana Selection
The new set has a cycle of lands that caused us to rethink how we present floating mana. When special use conditions, attributes, or benefits are put on mana from particular sources, they're known as mana riders. Whether it's snow-covered lands, Cavern of Souls, Plaza of Heroes, or The Myriad Pools, sometimes you care which mana gets directed to a spell or ability.
Starting with LCI, you get to have more control over which floating mana gets consumed – if it matters to you. As mana is generated, a new orange arrow appears beside the mana symbol.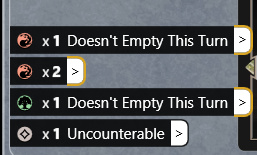 As you pay costs, if it doesn't matter to you where its source was, you can just click the mana symbol like normal – no need to change your habits.
If it does matter, you can click the orange arrow to expand the selection – the game will display the exact source of each mana. Hovering the cursor over that expansion will highlight the source if it's still on the battlefield to keep your mana straight.
Treasure Chest Update
Treasure Chests will update when LCI goes on sale next Tuesday, November 14 – be sure to watch our Twitter/X (@MagicOnline) and our Discord channel to confirm this before opening Chests.
For full details on the changes to come, check out the Treasure Chest information page. We have expanded a slot to provide a third card in the majority of Chests!
After next Tuesday, the next Treasure Chest update will occur on Wednesday, December 13.
Commander Corner
We have made further progress against the Commander backlog during this development cycle. As with last time, the cards added this time were basically free to us while coding cards for upcoming sets. These will appear in the TC-Only slot.
Additions from Commander Backlog
Mairsil, the Pretender (C17)
Court of Locthwain (WOC)
Throne of Eldraine (WOC)
Marut (CLB)
Breath of the Sleepless (VOC)
Vulpine Harvester (MOC)
Unfortunately, this set's complicated mechanics plus the need to code Universes Beyond cards means we ran out of time to get work done on LCI's four Commander decks. They will go onto our Commander Backlog and as time and team bandwidth allows, we'll circle back to get some of these cards.
Fortunately, over half of the new cards from LCI Commander didn't require any extra development work – they appear below and will be available in Treasure Chests.
| | | |
| --- | --- | --- |
| LCI Commander | Dusk Legion Sergeant | Redemption Choir |
| Admiral Brass, Unsinkable | Elenda's Hierophant | Scion of Calamity |
| Broadside Bombadiers | From the Rubble | Singer of Swift Rivers |
| Bronzebeak Foragers | Master of Dark Rites | Skeleton Crew |
| Carmen, Cruel Skymarcher | Mist Dancer | The Indomitable |
| Clavileño, First of the Blessed | Order of Sacred Dusk | Tributary Instructor |
| Curious Altisaur | Pantlaza, Sun-Favored | Wrathful Raptors |
| Deeproot Historian | Promise of Aclazotz | Xavier Sal, Infested Captain |
Magic Online Players Rewards (MOPR) Update
Upcoming MOPR rewards in December and January – based on store and play activity in the previous month – will contain foil versions of this set's Showcase cards at low rarities – the Core Full Art basic lands, the Promo Pack cards, and the uncommons. This includes Box Toppers such as Arcane Signet, Colossus Hammer, and Lightning Greaves!
For more information on earning Player Rewards, click here.
Event Updates
Season 3 QPs for Holiday Vintage Cube
If you have more Qualifier Points than you can use between now and the end of the current MOCS Season this month (or not enough for a full 40 QP entry into a Premier event), don't despair. The first two weeks of Vintage Cube over the holidays (December 20-January 3) will allow you to enter with leftover Season 3 QPs at a rate of 10 per bonus entry!
Important: Season 3 QPs and the upcoming Season 1 versions can't be mixed for either entering Vintage Cube or joining Premier Events.
Challenge Updates
Thanks to sustained increasing support, we are super-sizing several Format Challenge tournaments to use the extra-large event structure starting this weekend! The following events will now require 96 players to fire and give prizes down to 96th place:
Saturday 2 p.m. PT (22:00 UTC) Pioneer Challenge
Sunday 4 a.m. PT (12:00 UTC) Modern Challenge
Sunday 6 a.m. PT (14:00 UTC) Pioneer Challenge
Also, the following Challenge is being upgraded from small to large event structures – requiring 64 players to fire and giving prizes to Top 64:
Sunday 2 p.m. PT (22:00 UTC) Standard Challenge
As a reminder, the entry cost for these events aren't changing – the prizes are just going deeper down the standings. We will continue to track attendance figures for other time slots (Saturday's Pauper and Friday's Modern are next in line) to consider upgrades.
Finally, we are converting the Pioneer Prelim on Friday afternoons Pacific time to an additional Challenge. A 32-player Pioneer Challenge will debut at 2 p.m. PT (22:00 UTC) starting this Friday!
Alternate Play Schedule
Here's a look at the schedule of events coming up between now and Murders at Karlov Manor. Each description mentions whether the Draft is Phantom – cards won't be added to players' collections in Phantom events. All transitions take place at 10:00 a.m. PT (18:00 UTC) unless otherwise noted. Note that there are a couple cases of overlapping Alternate Play this season.
November 14-22 – The Lord of the Rings: Tales of Middle-earth™ Special Edition continues its run.
November 22-29 – To celebrate the 4-day weekend in the U.S., we are bringing back the most recent iteration of the Vintage Cube once more but just with 64-Player Elimination Drafts every 30 minutes to 2 hours all week.
November 29-December 6 – The two-pick-and-toss-em format returns – it's Supreme Masters Draft! Encompassing 18 packs that span most Modern-era Masters sets, all the Remastereds, both Horizons, and the three event sets (Hour of Devastation, War of the Spark, March of the Machine), the power level of this League will be very high.
December 6-20 – The Cube Spotlight shifts to one of the top Cubes played on streams – Gavin Thompson-Exner's AlphaFrog Cube! This alt-Vintage Cube zigs where the regular Cube zags.
December 20-January 24 – Vintage Cube returns for the Holidays Festival! Like last year, this will be a five-week run that supports competitors testing for the MOCS Season 3 Showcase (Jan. 13, twitch.tv/officialmagiconline & twitch.tv/magic). Creative Director Ryan Spain will have a whole new package of changes ready to delight all MTGO players.
January 17-February 6 – Ravnica Remastered will be in the spotlight with a Draft League that overlaps the last week of Vintage Cube.
Avatars
We will grant Prestige avatars from Wilds of Eldraine shortly after the end of that season on November 14.
Now let's look ahead to the avatars of our return to Ixalan! First up is the avatar given out in New Account kits and Deck Builder's Essentials – it's Basking Capybara!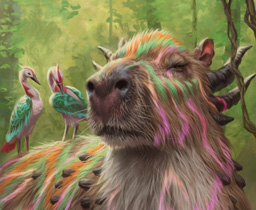 Next, we present the single avatar available in Treasure Chests – it's Hulking Raptor!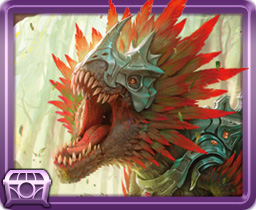 Finally, we will dole out some Prestige! As usual, you get five points for each Competitive trophy you earn in Leagues and one for each Friendly trophy. At the end of the season (when Murders at Karlov Manor releases), you'll earn every avatar for which you qualify:
Earning at least five points gets you the uncommon Breeches, Eager Pillager avatar.
Earning at least 20 points nabs you the rare Huatli, Poet of Unity avatar.
Earning 40 points or more rewards you with the mythic rare Quintorius Kand Prestige avatar.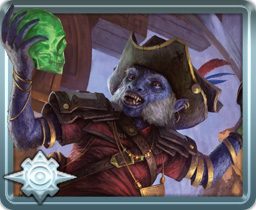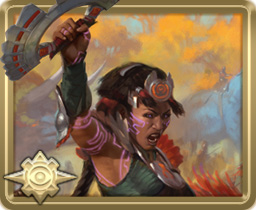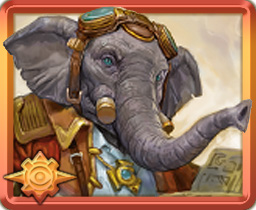 Odds and Ends
The Lost Caverns of Ixalan will be redeemable. Redemption Tokens are planned to go on sale in the Store on Wednesday, December 6. Stay tuned to the Weekly Announcement Blog at MTGO.com for details.
Reprints in The Lost Caverns of Ixalan that are entering a format won't become legal until the new Leagues kick off next Tuesday.
Similarly, New Player products will not feature The Lost Caverns of Ixalan until the set is on-sale.
We'll see you on the battlefield!
The Magic Online Team
P.S. We're Growing – Join Our Team
The game team of Magic Online has been growing over the last several months, and we're looking to expand some more! Check out Daybreak's careers page – most jobs are found by filtering location to Washington, though you can apply if you are (or can become) legally work from Washington state, California, Texas, New York, or Massachusetts.