Magic Online Weekly Announcements, July 4, 2023
Posted on Jul 04, 2023
MTGO Community Links: Forums  Discord  Twitter  Facebook  Instagram
---
THE LEAD
All-Access Returns July 5th!
Back by popular demand, All-Access returns to the Magic Online Store this Wednesday, July 5th, at 10 a.m. PT (17:00 UTC)! This edition will run until Monday, July 24th at 10 a.m. PT.
Like the June version, the Mythic Event Token will cost $25.00 USD. July's version will run a few days longer than usual to support those playtesting for Pro Tour Barcelona, the Modern-format tabletop Premier event that starts July 28.
To use the Mythic Event Token, simply purchase it in the Store, build any legal deck in your chosen format, and enter a game or event. No cards will be added to your collection, but you'll be able to play even if you don't have all the cards in your collection.
There are no Super Qualifiers during this run, so the most any account needs is one Mythic Event Token to get All-Access.
We'll remove all Mythic Event Tokens from accounts and turn off All-Access on July 24. If you're still competing in a Constructed League when access ends, you'll be allowed to complete that course.
Build anything cool and new to you in Commander using All-Access? We want to hear all about it on our Discord's Commander channel!
Note: Just like previous All-Access periods, certain cards (Secret Lair versions, TRANSFORMERS, Battlebond, and old-frame Power Nine) are unavailable. All-Access doesn't apply to Limited events.
MOCS Season 2 Postseason Starts This Weekend!
It's time once again to qualify players for the next Magic Online Champions Showcase on August 26th! Over the next two weekends, Top 8 finishers from Showcase Challenges and 5-win players from Last Chance events will battle until one remains as this season's Showcase Champion for that format.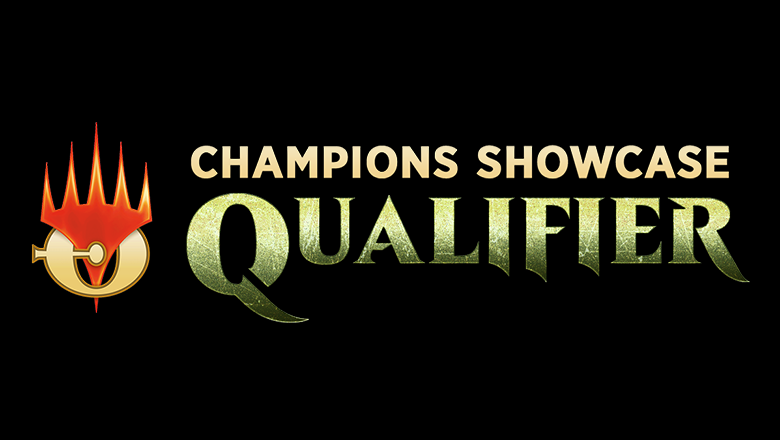 In addition to reaching the Champions Showcase (with its $70,000 prize pool and two Worlds invitations), the winner of each Showcase Qualifier is invited to the first Pro Tour of 2024 plus the Regional Championship round feeding that event this fall. Leaderboard Points are also on the line as players seek one of two At-Large invites at the end of the postseason.
| | | | |
| --- | --- | --- | --- |
| DATE | TIME (PT) | TIME (UTC) | EVENT |
2023 SEASON 2 POSTSEASON EVENTS
| | | | |
| --- | --- | --- | --- |
| Saturday, July 8 | 8:00 a.m. | 15:00 | Modern Showcase Qualifier |
| Sunday, July 9 | 6:00 a.m. | 13:00 | Pioneer Showcase Qualifier |
| Saturday, July 15 | 8:00 a.m. | 15:00 | Pauper Showcase Qualifier |
| Sunday, July 16 | 8:00 a.m. | 15:00 | Legacy Showcase Qualifier |
| Saturday, July 22 | 7:00 a.m. | 14:00 | MOCS Showcase Open |
| Sunday, July 23 | 7:00 a.m. | 14:00 | MOCS Showcase Open |
If you did not reach the Showcase Qualifier stage, your chance to reach the Showcase will be the weekend of July 22-23 in the Showcase Opens – events featuring The Lord of the Rings: Tales of Middle-earth™ Limited where the winner earns a Showcase invitation.
For more information on MTGO Premier Play, click the link at the top of the Blog.
---
Special Win-a-Box Events Wrapping Up
To celebrate the long weekend in North America, we added a flurry of Sealed Deck events where 4 match wins earns a (virtual) box!
Win-a-Box events will fire every 2 hours or so until All-Access starts tomorrow (avoiding obvious conflicts with other Limited events). What's more, because it's near the end of the MOCS season, we are offering a QP entry option for this event! Here are the details:
LOTR Win-a-Box Sealed Event
Entry Options: 35 Event Tickets, 350 Play Points, or 20 MOCS Season 2 Qualifier Points
Format: 4 rounds of The Lord of the Rings: Tales of Middle-earth™ Sealed Deck
Players: 16-256
Prizes:
4-0 – 36 The Lord of the Rings: Tales of Middle-earth™ boosters
3-1 – 6 The Lord of the Rings: Tales of Middle-earth™ boosters
---
Supreme Draft: Gold Edition Starts Tomorrow!
We've got a treat for multicolor aficionados this week – it's Supreme Draft: Gold Edition! This Phantom experience starts with a single-player draft. Select two cards, then that pack goes away. Repeat that until you have 36 cards in your pool, build a draft deck, then play up to three matches.
Do you aim for mana fixing or take the best available cards? The choice is yours! Entry options are 10 Event Tickets or 100 Play Points, and prizes are the same as normal Phantom Leagues.
Each entry will see one booster from each of the following sets (cards won't be added to Collections):
Invasion
Planeshift
Apocalypse
Ravnica: City of Guilds
Guildpact
Dissension
Shards of Alara
Conflux
Alara Reborn
Khans of Tarkir
Return to Ravnica
Gatecrash
Dragon's Maze
Streets of New Capenna
Guilds of Ravnica
Ravnica Allegiance
Shadowmoor
Eventide
---
Freeform Commander Comes to MTGO on July 12!
Attention fans of Commander variants such as Canadian Highlander, Duel Commander, cEDH, Commander Draft Limited, and more: We are installing a new sandbox game mode that honors color identity rules but lets you bring your own banned list to play games with your buddies! Freeform Commander rooms will be available In-game following the July 12 downtime.
A full article describing the what, why, and how of this new play area will go live alongside the Blog next Tuesday.
---
Two-Factor Authentication Is Now Live – Protect Your Account Today!
A long-requested security feature is now part Magic Online – check out Ryan Spain's article to learn the why, what, and how to put Two-Factor Authentication into effect to help protect your account!
---
PREMIER PLAY
MOCS Season 2 Ends Tomorrow
Only a few Last Chance events remain over the next 24 hours before MOCS Season 2 comes to a close – see below.
Season 2 Qualifier Points will be cleared from accounts sometime later this week. Click the Premier Play Information link at the top of this Blog for full details.
---
MOCS Last Chance Events Wrapping Up
Did you fall just short of a Top 8 Showcase Challenge finish? Did you scrape together that 39th and 40th Qualifier Point at the last second? If so, your ticket to the upcoming Showcase Qualifiers could be earned in a Last Chance Event!
Starting Saturday afternoon Pacific time (changed from Sunday in previous seasons), all Preliminaries in Modern, Legacy, and Pioneer convert to Last Chance Events. In addition, Pauper Last Chance Events will be sprinkled across the schedule. Finish with a 5-0 record in that event to earn an Entry Token to that format's Showcase Qualifier later in July.
Entry options require both 40 Qualifier Points plus either 30 Event Tickets or 300 Play Points.
Here's the schedule of remaining Last Chance Events this round:
| | | | |
| --- | --- | --- | --- |
| Day | Time PT | Time UTC | Format |
| Tuesday | 11 a.m. | 18:00 | Modern |
| Tuesday | 1 p.m. and 11 p.m. | 20:00 and 6:00* | Pauper |
| Tuesday | 3 p.m. | 22:00 | Pioneer |
| Tuesday | 7 p.m. | 2:00* | Legacy |
| Wednesday | 3 a.m. | 10:00 | Legacy |
*indicates next-day
Last Chance Events pre-empt Preliminaries of the same format normally scheduled at those times.
Click the Premier Play Information link at the top of this Blog for full Last Chance Event details.
---
MOCS Season 3 Starts Tomorrow
On Wednesday morning Pacific time, events will transition to give out Season 3 Qualifier Points. Your first chance to use those will be on Sunday, July 30th in a Modern Super Qualifier. The Premier Play Calendar now includes the set of Premier Events taking place through August.
---
ALTERNATE PLAY
Upcoming Schedule
Here is the lineup of other play formats that will be available between The Lord of the Rings: Tales of Middle-earth™ and the release of Commander Masters on August 3rd:
July 5-12 – It's time for Supreme Draft – Gold Edition: 18 multicolor sets enter, all but 36 cards leave. (Phantom)
July 12-19 – Commander Legends makes its return to digital draft tables in a very different form! Each League course will consist of a 4-player draft pod, followed by a single game of play. Prizes are still awarded by votes with the game's winner receiving an extra vote. (Keeper and Phantom)
July 19-26 – We return to the plane of innovation and energy – for the first time (somehow), it's Aether Revolt-Kaladesh Flashback Draft! (Phantom)
July 26-August 3 – Magic 30 Cube returns for its penultimate run. The Cube's designer, Carmen Handy, has some extra special surprises in store for this edition.
---
WEEKLY UPDATES
The Lord of the Rings: Tales of Middle-earth™ on MTGO
Check out this article for the scoop on everything on offer:
Art Bundles and other items
Event updates, including special prize structures

NEW: Prizes have been increased since initial publication in several LTR Leagues

Jumpstart's return as a New Player experience
Alternate Play, including Supreme Draft and Commander Legends in a whole new format
---
Redemption Corner
Redemption Tokens for March of the Machine are now on sale in the MTGO Store. Tokens for Phyrexia: All Will Be One and The Brothers' War remain available.
IMPORTANT: As of May 23, all new orders of Redemption Tokens are non-refundable! We've updated our Redemption page with that information.
For more details on the redemption program, click here.
---
Magic Online Format Challenges Every Weekend
Format Challenges are the first step toward qualifying for Premier Play through your favorite Magic formats and provide excellent prizes for those looking to test their mettle in their favorite formats. Learn more about Premier Play qualification to get started today.
Magic Online's Format Challenges run as shown on the schedule below.
On weekends featuring Showcase Challenge events, the Format Challenge that starts at either 6 a.m., 8 a.m., or 10 a.m. Pacific time is pre-empted by the Showcase Challenge; Format Challenges scheduled at other times remain in place.
NOTES:
CONSTRUCTED
In MOCS Season 3, Vintage and Pauper Challenges are never pre-empted.
32-Player events require 32 players to fire and give prizes to the Top 32.

Pauper and Vintage Challenges are always 32-Player tournaments.

All other events listed require 64 players to fire and give prizes to the Top 64.


LIMITED
32-Player Limited Challenge events are 6 rounds with no playoff
64-Player Limited Challenge events are 7 rounds with no playoff
Check out the Magic Online Format Challenges page for further event details.
---
PATCH NOTES – June 29, 2023 Hotfix
Pithing Needle and Sorcerous Spyglass can correctly choose LTR cards in Modern.
Goldberry, River-Daughter no longer causes a soft lock when Goldberry is destroyed in response to its second ability.
Saruman of Many Colors is correctly restricted to mana values equal to or less than the second spell's mana value.
There is no patch on July 5.
---
NEXT SCHEDULED DOWNTIME – July 12, 9 a.m. to Noon PT
The next scheduled maintenance is now set for Wednesday, July 12, from 9 a.m. to noon PT (16:00-19:00 UTC). This is to support the release of the Freeform Commander game mode, for which we'll have a companion article next Tuesday.
Also on that day, to assist with company-wide infrastructure needs, the MTGO Store will not be available for purchases starting at 6 a.m. PT (13:00 UTC). The rest of the game will function as expected – trade, play, opening packs, etc until downtime. Everything will work normally once downtime concludes.