Magic Online Weekly Announcements, February 7, 2023
Posted on Feb 07, 2023
Community Links: MTGO Forums - MTGO Discord - MTGO Twitter - NEW! Facebook - NEW! Instagram
---
GET SOCIAL WITH MTGO – NOW ON FACEBOOK & INSTAGRAM!
Join our communities across the Internet, including our newest ones on Facebook and Instagram that launched last week! Click the links above to get started, including joining over 1800 Magic Online fans on the Discord channel. 
---
Players have been understandably expressing concern about account security in light of account-theft reports on social media.
Two-factor authentication for MTGO is in active development, but in the meantime, please remember:
Players with a strong MTGO-only password that they have never shared or exposed aren't targets of account theft—having such a password should be part of every player's account security.
Until we can deploy two-factor authentication, awareness of how passwords are stolen is a player's best defense against account theft. Here are some critical mistakes to avoid:
Password Re-Use: There have been no Magic Online data breaches under Daybreak, but a data breach or bad actors on a website where you have re-used your Magic Online password can lead to bad actors trying the password elsewhere. Never re-use your Magic Online password or one similar to it.
Password Sharing: Whether given intentionally to friends or unintentionally to phishing and social engineering efforts, sharing your password with any person or entity puts your account at serious risk of theft.
Password Strength: Accounts with passwords that are guessable, short, or overly simple are at greater risk of theft. Make your password strong!
Password strength and care are the common threads here. Change your MTGO password today to a unique, complex alternative and never give it to anyone or enter it in anything other than our login screen or Help site. Players who do reduce their risk of account theft to near zero.
Should you suspect your account has been compromised, you can log into help.mtgo.com to file a Customer Service ticket. If you are locked out of the account due to a compromise in progress, you should create a brand-new MTGO account and then log into the Help site with those credentials. Contacting us via social media can help, but that generally isn't quick enough to stop an event in progress.
---
PHYREXIA: ALL WILL BE ONE
ON MTGO STARTS TODAY
The latest Standard-legal expansion, Phyrexia: All Will Be One, hits MTGO's digital shelves today at 10 a.m. Pacific time (18:00 UTC). Check out this article for updates on the following that will take effect today: 
MTGO's Art Bundles, available for a limited time in the Store

 

Event schedules and improvements on how they are displayed in the Play Lobby

Magic Online

Player Rewards

 

Alternate Play

 

The latest suite of Avatars

Late Change:

The Borderless Praetors will appear in booster packs at the same rate as tabletop (originally it was stated they would not appear until later in the year). These cards will not be part of today's Treasure Chest update, but will be included in the next TC Update next month.
---
MOCS SHOWCASE CHALLENGE EVENTS THIS WEEKEND
It's time once again to get players invited to the next round of Showcase Qualifiers in March and April.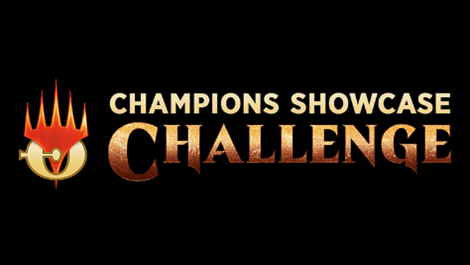 It takes 40 Season 1 Qualifier Points to enter a Showcase Challenge. The Top 8 finishers in each event earn a Championship Entry Token for the event's format plus earn Leaderboard Points toward an At-Large berth in the next Showcase! Here are the dates and times for the first group: 
| DATE | TIME (PT) | TIME (UTC) | EVENT | FORMAT |
| --- | --- | --- | --- | --- |
| Saturday, February 11, 2023 | 8:00 a.m. | 16:00 | Modern Showcase Challenge | Modern |
| Sunday, February 12, 2023 | 6:00a.m. | 14:00 | Pioneer Showcase Challenge | Pioneer |
For more information on these events, click the Premier Play Information link at the top of the Blog.
---
LIMITED CHALLENGE UPDATE
With the new set upon us, we are reverting the Limited Challenges that begin 12 p.m. Pacific (20:00 UTC) on Saturdays and Sundays to be 64-Player events starting this weekend. This means an extra round and bigger prizes are on the line! We will leave these at 64-Player until we see demand drop enough to go back to 32-Player.
The Limited Challenges at 1 a.m. Pacific (9:00 UTC) remain as 32-Player events.
---
ALTERNATE PLAY SCHEDULE
Here's a look at the schedule of events coming up between now and March of the Machine. Each description mentions whether or not the Draft is Phantom – cards won't be added to players' collections in Phantom events. All event transitions are at 10 a.m. PT.
Today- February 22 – Phyrexia: All Will Be One Best-of-One League (Keeper) – this has the same entry options and prizes as the previous versions but runs for just two weeks.
February 15-22 – The Magic 30 Cube returns for the first time with updates! (Phantom) This Cube will recur each time a Magic Con takes place in 2023. (Runs concurrently with Week 2 of the Best-of-1 ONE League)
February 22-March 1 – Our first trip back to the meeting point of technology and tradition – it's Kamigawa: Neon Dynasty! (Keeper)
March 1-8 – An alternate version of Dominaria's saga returns – Time Spiral Remastered (Keeper)
March 8-22 – Mid-March = Modern Horizons Madness! We'll kick it off with the original Modern Horizons (Keeper & Phantom Draft options) for two weeks …
March 22-April 5 - … then it's two weeks of Modern Horizons 2! (Keeper & Phantom Draft options)

April 5-MOM Release – We are still considering our options here.
---
REDEMPTION UPDATE
Redemption Tokens for The Brothers' War and Dominaria United are now on sale in the MTGO Store. The Dominaria United Tokens are getting quite low and The Brothers' War is about half-gone – when supplies run out, they are gone for good!
Phyrexia: All Will Be One Redemption Tokens are slated to go on-sale on Wednesday, March 8.
For more details on the redemption program, click here.

---
MAGIC ONLINE FORMAT CHALLENGES EVERY WEEKEND
Format Challenges are the first step toward qualifying for Premier Play through your favorite Magic formats and provide excellent prizes for those looking to test their mettle in their favorite formats. Learn more about Premier Play qualification to get started today. 
Magic Online's Format Challenges run as shown on the schedule below.  
On weekends featuring Showcase Challenge events, the Format Challenge that starts at either 6 a.m., 8 a.m., or 10 a.m. Pacific time is pre-empted by the Showcase Challenge; Format Challenges scheduled at other times remain in place. 
NOTES: 
In MOCS Season 1, Pauper and Standard Challenges are never pre-empted.

 

32-Player events require 32 players to fire and give prizes to the Top 32.

 

Pauper, Vintage, and Standard Challenges are always 32-Player tournaments. 

All other events listed require 64 players to fire and give prizes to the Top 64.

 

32-Player Limited Challenge events are 6 rounds with no playoff

64-Player Limited Challenge events are 7 rounds with no playoff

 
Check out the Magic Online Format Challenges page for further event details.
---
NEXT SCHEDULED DOWNTIME – FEBRUARY 15, 6 A.M. PT
The next scheduled downtime is planned for Wednesday, February 15 beginning at 6 a.m. PT (14:00 UTC). This is slated to last longer than usual – up to four hours – due to changes needed in our internal infrastructure.