Phyrexia: All Will Be One on Magic Online
Posted on Jan 26, 2023
We hope that 2023 is off to a great start for you! Magic Online's first main course for the year is Phyrexia: All Will Be One (known by its set code ONE) with events kicking off on Tuesday, February 7!
Due to the late change in ONE's release date, the downtime to add this set to MTGO will take place today, January 26 at 9 a.m. Pacific time (17:00 UTC). Vintage Cube events also end at today's downtime – we hope you have enjoyed those.
---
But First, An Appetizer ...
Between downtime and the start of ONE, we will be featuring the all-reprint set Dominaria Remastered (DMR). Magic Online will be treating that set as a cross between Cube and Standard – that is:
Boosters will cost $3.99 USD, the same as a Standard set.
Both a Draft league and a single-elimination queue will be offered, but they are keeper and cost the same as those of a Standard set.

The events kick off immediately following downtime and run only until ONE events start at 10 a.m. PT (18:00 UTC) on February 7.

Treasure Chest contents will be updated with Dominaria Remastered included once we come up from downtime - be sure to look for the usual suite of extended-art and borderless cards!

Challenge and Premier events during this 12-day period will

award booster and set prizes of

Dominaria Remastered

. Limited Preliminaries will use DMR for Sealed product – no change in entry options.

Due to some technical limitations, we have removed borderless and retro commons and uncommons from DMR boosters (the slot where those would have appeared will revert to a regular common slot). We are shifting that group of cards to Magic Online Player Rewards – see the item below for details.
Finally, rarity downshifts for DMR will apply right after downtime and will affect the Pauper Qualifier event on Saturday.
---
ONE Thing After Another
Features of the next few months include our first foray into Art Bundles – a new way to collect awesome art, the return of the Magic 30 Cube, additional Challenge events on weekends, and more …
---
New MTGO Art Bundles
Wizards of the Coast's art teams have pulled out all the stops with Phyrexia: All Will Be One – a true proliferation of what's possible with the look of a Magic card. From black-and-white Ichor Showcase to guest artists, lands to planeswalkers, this set has it all!
The Magic Online team continues to experiment with ways of getting cards what players want into their Collections. For this set, we are varying our methods.
We've reserved some of our favorite cycles of art from this set and are making them collectible for a limited time via the Store. The following items will go on sale February 7 at 10 a.m. PT – they will not be in Treasure Chests and will leave the Store with the release of March of the Machine in April: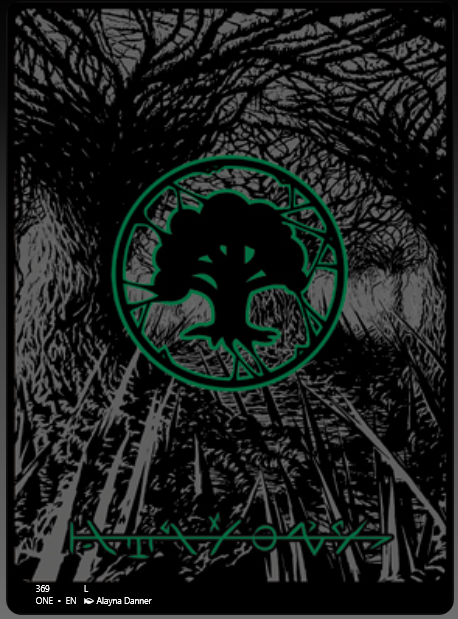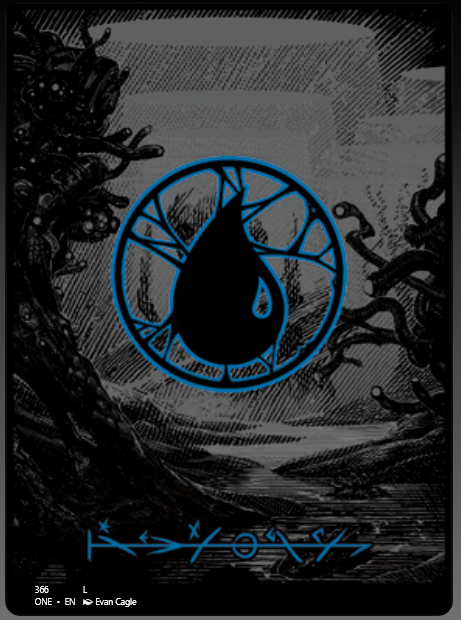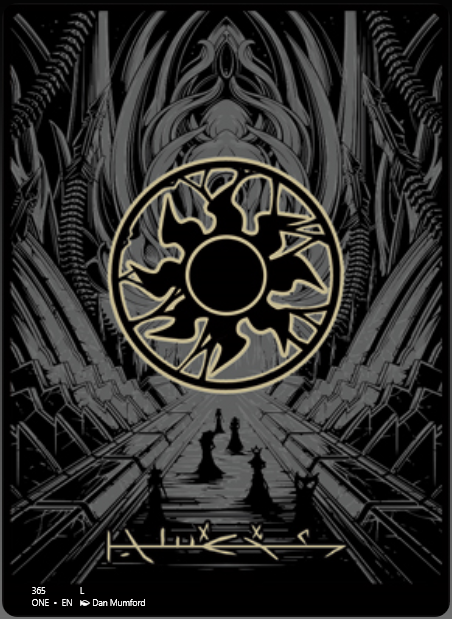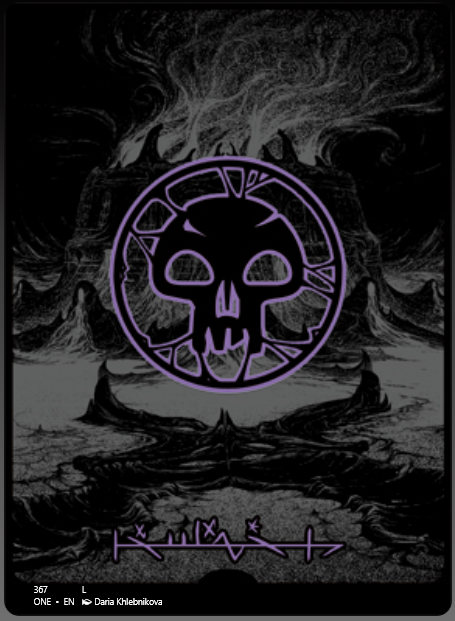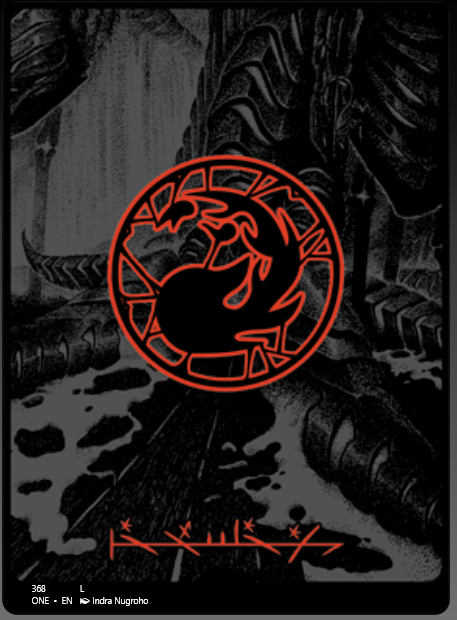 The Phyrexian Oil Lands are some of the most starkly beautiful full-art lands ever printed!

10 copies of any one basic land type costs just $3.99 (all prices USD)
A 50-card bundle featuring 10 copies of all five basic lands is only $16.99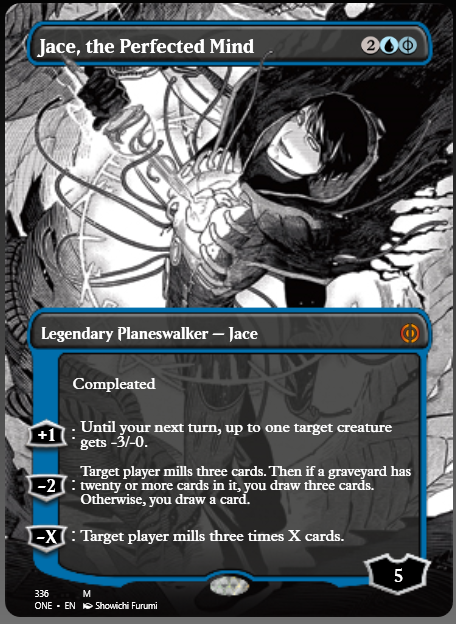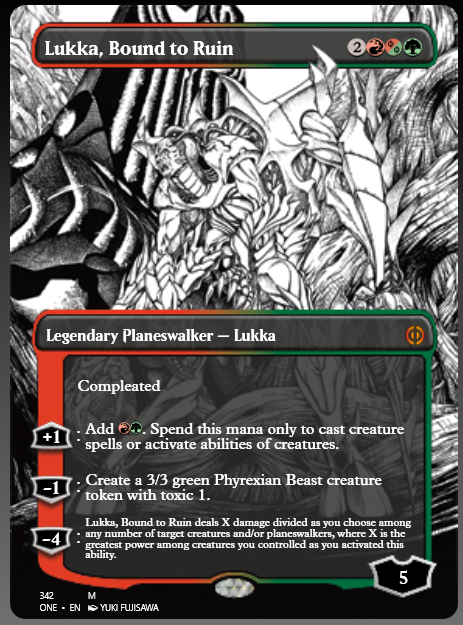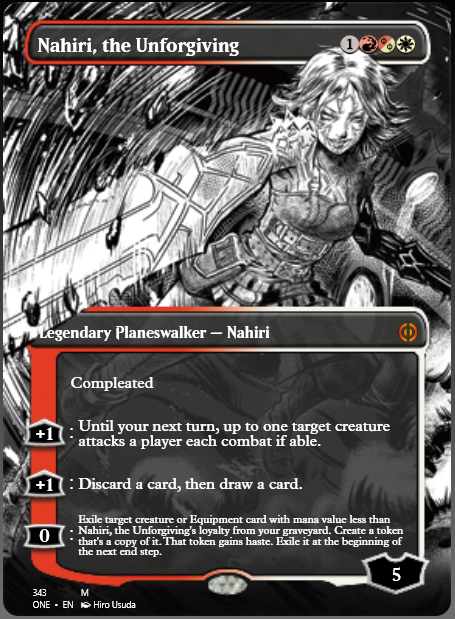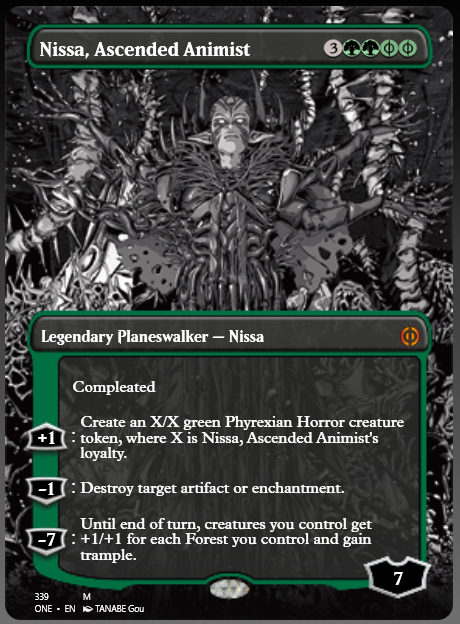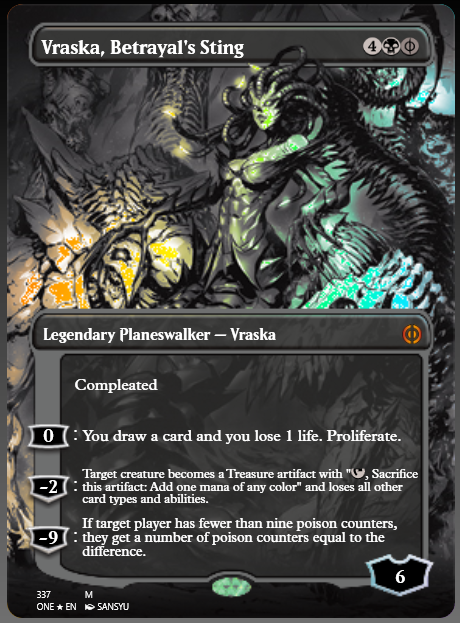 The five Compleated Planeswalkers – Jace, Lukka, Nahiri, Nissa, and Vraska – get a borderless, alternate-art manga depiction. Fueled by the power of the Phyrexians, these five antagonists can join your Collection for just $14.99!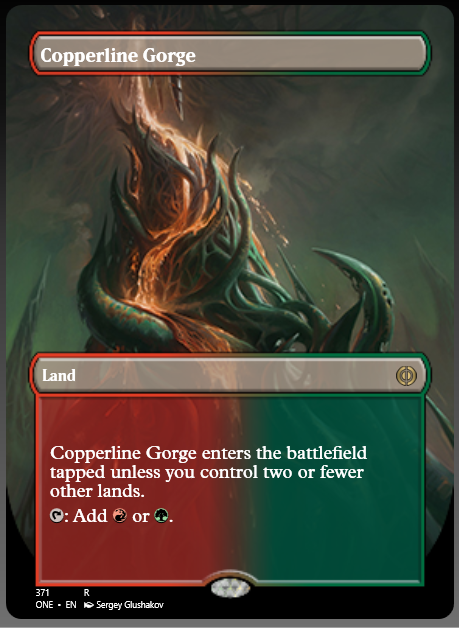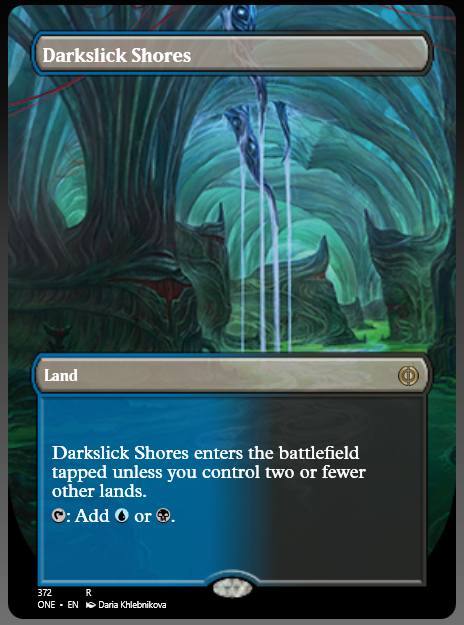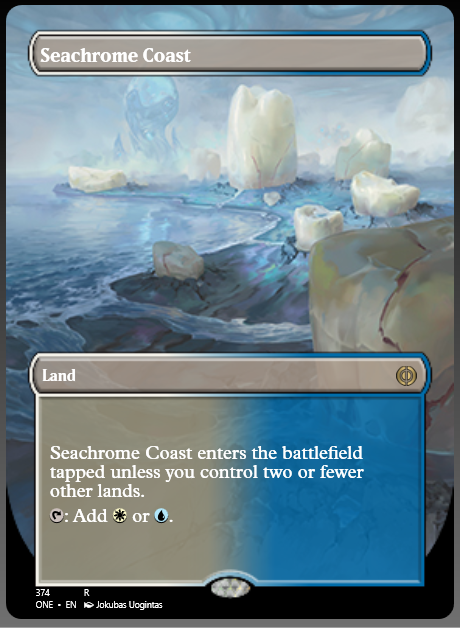 The cycle of allied Fastlands – Copperline Gorge and friends – get a new look. A copy of each of the 5 lands to add to your Collection is just $4.99!
These new items will be found in both the Featured tab and the new Bundles tab of the MTGO Store.
---
Other Showcase Art
Some groups of art will appear in Treasure Chests once ONE goes on-sale. These include:
Rare and Mythic Ichor Showcase cards

Commons and Uncommons will appear in upcoming MOPR grants (see below)

The Mirran Legends
The manga version of non-compleated Planeswalkers (Kaito, Kaya, Koth, Tyvar, Wanderer)
The Junji Ito version of Elesh Norn, Mother of Machines
This set is one of the first to feature all lands in boosters that use full-art or Showcase treatments. Therefore, basic lands in the normal frame will go into our new player products. Also, the regular versions of the set's Jumpstart cards will be a new included feature of Deck Builder's Essentials going forward.
UPDATE 2/6/23: Finally, the super-cycle of borderless, alternate-art praetors will be held back for a release later this year appear in boosters at the same rates as tabletop. Their appearance in Treasure Chests will be delayed to the next update in March.
---
Event Updates
We have heard plenty of feedback from players (particularly from the Asia-Pacific region) who want as much top competition as possible around the clock. To help with this, we are re-arranging the weekly schedule by upgrading two Preliminaries on Friday nights (Pacific time) to small Challenge events, plus another on Saturdays, starting this weekend:
Modern Challenge 32 (includes Top 8 playoff)

Friday 6pm PT (Saturday at: 02:00 UTC / 11:00 Japan / 13:00 AEDT / 15:00 NZ)
Saturday 6pm PT (Sunday at: 02:00 UTC / 11:00 Japan / 13:00 AEDT / 15:00 NZ)

Limited Challenge 32 (6 Swiss rounds of Sealed, no playoff)

Friday 4pm PT (Saturday at: midnight UTC / 09:00 Japan / 11:00 AEDT / 13:00 NZ)
---
In-Client Improvements
We have a couple quality-of-life to share with this release!
Start times of Scheduled Events will display localized - based on the time zone of your computer!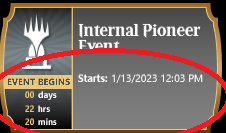 Links to our online communities on Discord, Twitter, the Forums, and more can now be found on the log-in screen and on the Home screen.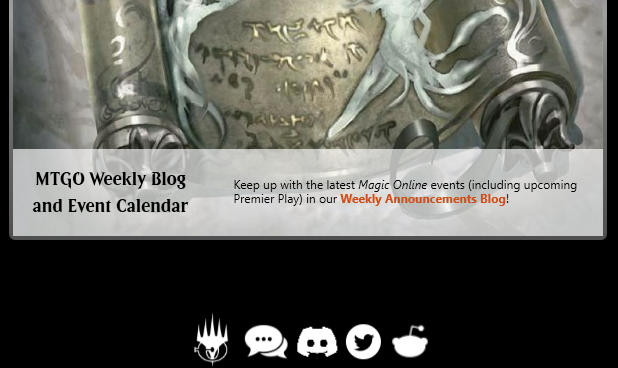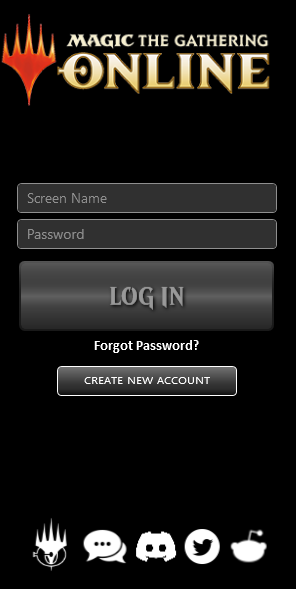 ---
Treasure Chest Update
As a reminder, Treasure Chests will update as follows:
During the January 26 downtime – Dominaria Remastered added to Curated slot, Curated slot refreshed.
February 7 around 10 a.m. PT –

Phyrexia: All Will Be One extended-art/borderless/Ichor/etc (see list above) added to Curated slot
ONE Commander and ONE Jumpstart extended-art plus Commander Backlog cards (see table below) added to TC-Only slot
Slot ratios will be adjusted
Watch our Twitter (@MagicOnline) and our Discord channel for the precise timing.

March 8 – Treasure Chest Fast Follow
For full details on the changes to come, check out the Treasure Chest information page.
---
Commander Corner
All of the cards listed in the table below are joining MTGO with this release in the returning TC-Only slot. Due to the holidays and our team's bandwidth, many of the cards added this time were basically free to us while coding cards for upcoming sets.
| Battle for Baldur's Gate (CLB) | Other Sets |
| --- | --- |
| Aboleth Spawn | Fiery Encore (C21) |
| Artificer Class | Zaffai, Thunder Conductor (C21) |
| Captain N'ghathrod | Damning Verdict (NCC) |
| Dig Deep |   |
| Durnan of the Yawning Portal |   |
| From the Catacombs |   |
| Journey to the Lost City |   |
| Lurking Green Dragon |   |
| Uchuulon |   |
Also, the two newest Commander Decks – Corrupting Influence and Rebellion Rising – will each go on sale for $29.99 in the Store on February 7.
---
Magic Online Players Rewards (MOPR) Update
We are refreshing the monthly rewards players can earn via MOPR starting with the next grant on February 1st. The borderless and retro commons and uncommons from Dominaria Remastered will be the sole group of cards distributed – replacing the basic lands. Cards such as High Tide, Swords to Plowshares, and Street Wraith are available this way.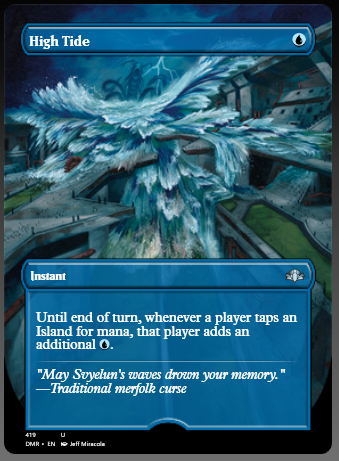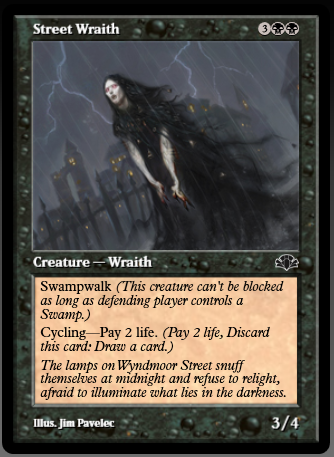 Then for the March and April grants, we will add in the Ichor Showcase commons and uncommons from Phyrexia: All Will Be One.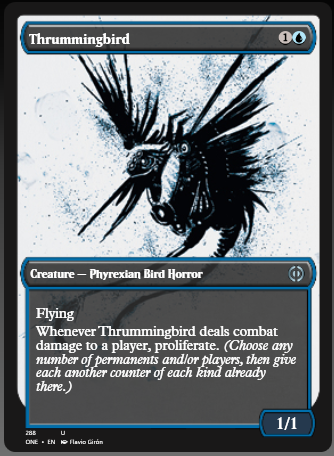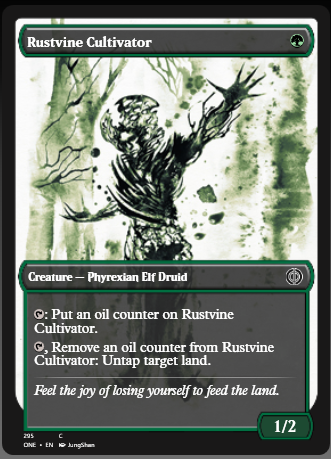 For more information on earning Player Rewards, click here.
---
Phyrexia: All Will Be One Avatars
We will grant Prestige avatars from The Brothers' War in the days following the end of that season on February 7.
Now let's look ahead to the new set. First up is the avatar included in the New Account Starter Kit and as part of Deck Builder's Essentials: Phyrexia: All Will Be One – it's Kemba, Kha Enduring: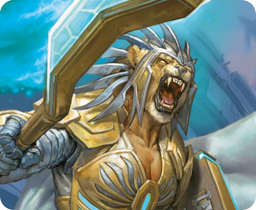 Next up are the five Treasure Chest avatars available only during this set's run:
Apostle of Invasion
Ezuri, Stalker of Spheres
Hexgold Hoverwings
Jawbone Duelist
Mercurial Spelldancer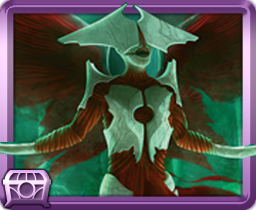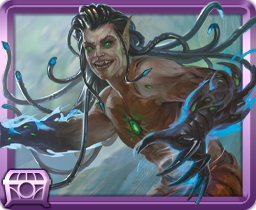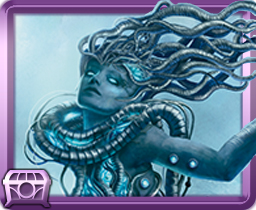 Lastly, we will dole out some Prestige! As usual, you get five points for each Competitive trophy you earn in Leagues and one for each Friendly trophy. At the end of the season, you'll earn every avatar for which you qualify: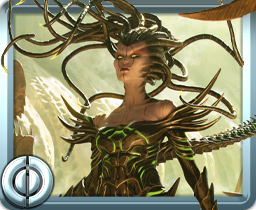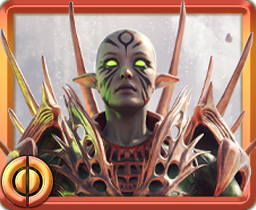 Earning at least five points gets you the uncommon Vraska, Betrayal's Sting Prestige avatar.
Earning at least 20 points nabs you the rare Koth, Fire of Resistance Prestige avatar.
Earning 40 points or more awards you with the mythic rare Nissa, Ascended Animist Prestige avatar.
---
Alternate Play Schedule
Here's a look at the schedule of events coming up between now and March of the Machine. Each description mentions whether or not the Draft is Phantom – cards won't be added to players' collections in Phantom events. All event transitions are at 10 a.m. PT.
January 26-February 7 – Dominaria Remastered – both League and Queue (Keeper - see top of article)
February 7-22 – Phyrexia: All Will Be One Best-of-One League (Keeper) – this has the same entry options and prizes as the previous versions but runs for just two weeks.
February 15-22 – The Magic 30 Cube returns for the first time with updates! (Phantom) This Cube will recur each time a Magic Con takes place in 2023. (Runs concurrently with Week 2 of the Best-of-1 ONE League)
February 22-March 1 – Our first trip back to the meeting point of technology and tradition – it's Kamigawa: Neon Dynasty! (Keeper)
March 1-8 – An alternate version of Dominaria's saga returns – Time Spiral Remastered (Keeper)
March 8-22 – Mid-March = Modern Horizons Madness! We'll kick it off with the original Modern Horizons (Keeper & Phantom Draft options) for two weeks …
March 22-April 5 - … then it's two weeks of Modern Horizons 2! (Keeper & Phantom Draft options)
April 5 - MOM Release – We are still considering our options here.
---
Odds and Ends
Phyrexia: All Will Be One will be redeemable and its Redemption Tokens are scheduled to go on-sale on March 8. Stay tuned to the Weekly Announcement Blog at MTGO.com for details.
The current Leagues have been extended until February 7. Cards reprinted in ONE that are entering a format will

not

be legal until the ONE Leagues start on February 7.
New player products will not feature ONE until that set's Leagues begin.
We'll see you on the battlefield!
The Magic Online Team