March of the Machine on Magic Online
Posted on Apr 11, 2023
Welcome back! We are gearing up for a truly special spring of Magic Online's offerings. Next in line is the event set March of the Machine (known by its set code MOM) with events kicking off next Tuesday, April 18!
The downtime to add this set to MTGO will take place tomorrow, April 12 from at 9 a.m. to approximately 12 noon Pacific time (16:00-19:00 UTC). Be sure to follow our social media outlets (Discord, Twitter, and more) to keep real-time tabs on this release.
Features of the next few months include another Art Bundle, more Cube, another round of All-Access, and the Aftermath of the multiplanar war …
---
Borderless Praetor-Saga Art Bundle
Our experiment with Art Bundles last set proved to be a success! We know many of you love to bling out your decks, so we will continue to make some of the most powerful and beautiful cards available directly through the Store.
This time we have a single focus – the Borderless Praetor-Saga Bundle! Containing a single copy each of the five Phyrexian Praetors printed in March of the Machine, these breathtaking Showcase treatments are a great addition to your Collection. Each Bundle costs just $24.99 USD.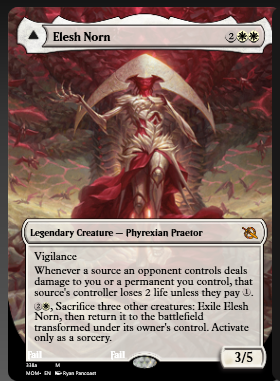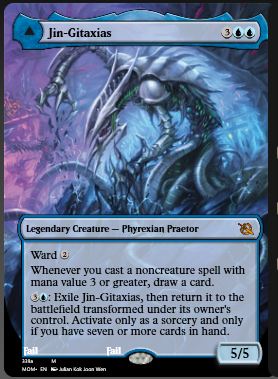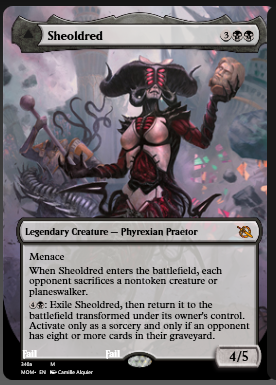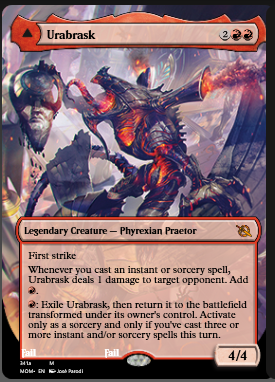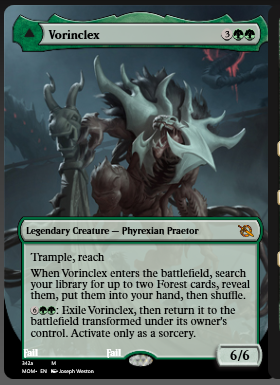 Like previous Bundles, these cards will not appear in Treasure Chests and will leave the Store with the release of The Lord of the Rings: Tales of Middle-earth™ in June.
---
How to Battle on MTGO
As hinted by Atraxa, Grand Unifier in the last set, the Battle card type makes its debut in March of the Machine. It plays like a mashup of a creature, a planeswalker, and a transforming double-faced card. There are a lot of moving parts and ways to get confused with this mechanic, so let's walk through how this will work.
---
Battle Ins and Outs
When a Battle is put into your hand, it will appear sideways like a split card. Like double-faced cards, right-clicking the card in hand will not display the power/toughness of any Battle that transforms into a creature. Having the Preview Pane window open will be a great help in handling these cards.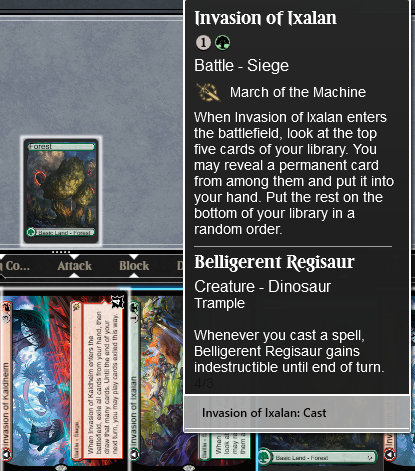 The most important thing to remember: You control the battle even though it is being protected by an opponent! For example, Invasion of Ixalan gets cast, then when it resolves it shows up on the opponent's battlefield. In a multiplayer game, you first choose a protector before that Battle's trigger goes onto the stack.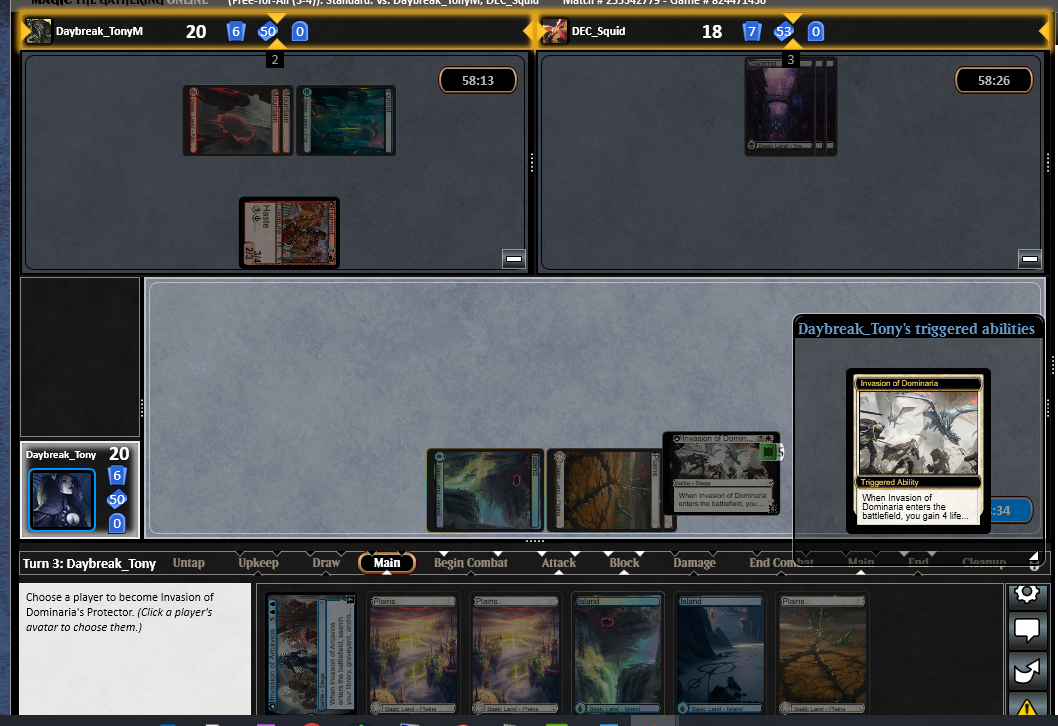 So when you attack an opponent who is protecting a Battle, you will get a menu similar to when you're attacking a planeswalker or multiple opponents. Be especially careful if you are attacking two Battles with the same name!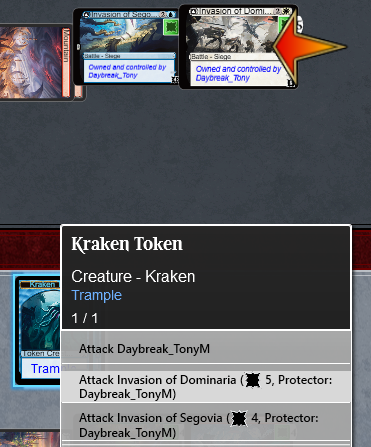 If there's ever a question about who or what a creature is attacking, check the Game Log or hover your cursor over the attacker.
When a Battle is defeated, the card is first exiled and then cast from exile. Here's how it can appear in MTGO – the important part is to open your Exile zone and click the highlighted card itself: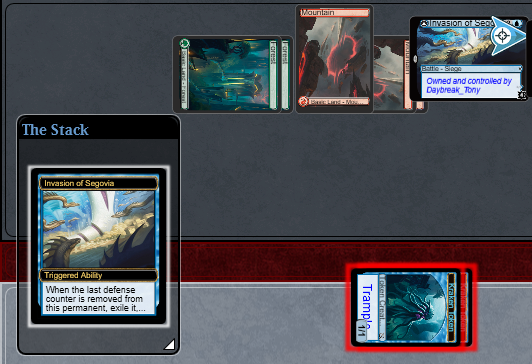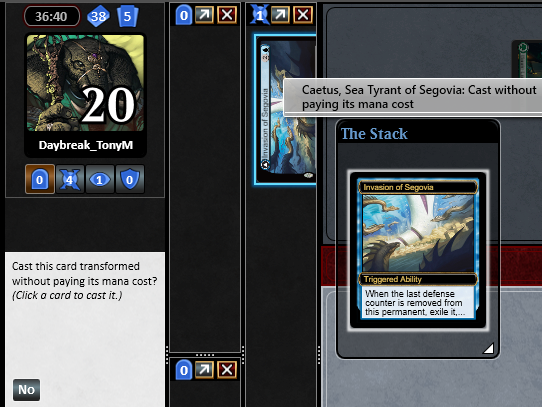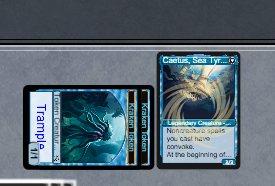 In Multiplayer, your Exile zone is to the right of your battlefield by default, so look for it there.

With all this battling, don't forget to attack your opponent sometimes too!
---
Incubate
Another mechanic in this set is Incubate. If you control multiple Incubator tokens with the same number of counters, ensure you animate the correct one without summoning sickness when preparing to attack. Because they are not yet creatures, they don't have the swirl naturally. (If you have used Blinkmoth Nexus, Mutavault, or other permanents that animate in the past, this will be familiar territory).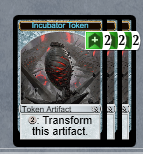 If in doubt, right-click each token to check its status before activating – don't get got!
---
Product Updates
Due to some quirks in how Magic Online can handle Booster Fun, the makeup of a March of the Machine booster on MTGO will look a bit different than in tabletop. The booster will contain:
8 Common slots (1 of which is replaced 1/3 of the time by a premium foil of any rarity)
2 single-faced Uncommon slots
1 flex slot that can either be an Uncommon (single- or double-faced)

or

a double-faced Common
1 single-faced or double-faced Rare/Mythic

This can include one of the MOM main set legends in a Showcase frame

1 Battle card (Uncommon, Rare, Mythic)
1 Multiverse Legend (Uncommon, Rare, Mythic)

In the MTGO Collection scene, you'll find these in the March of the Machine: Planar Legends set

1 basic land – either regular or full-art –

or

tap-dual land
---
Other Cards from Boosters
Some groups of art will appear in Treasure Chests once MOM goes on-sale. These include:
Extended-Art Rares and Mythics.
The Borderless Planeswalkers.
The Multiverse Legends – both those from the MOM main set and the bonus sheet.

The foil-etched versions of the Bonus Legends appear

only

in Treasure Chests.
Like last set, normal editions of the fifteen Jumpstart cards from this set will be available in Deck Builder's Essentials at the usual price - $4.99 USD. Extended-art editions of five of those Jumpstart cards will be available via Treasure Chests in the TC-Only slot.
---
March of the Machine: The Aftermath
See how the battle ends when March of the Machine: The Aftermath drops on MTGO on Thursday, May 11. We'll share more details about that set will appear on MTGO closer to the date in the Weekly Announcements Blog at mtgo.com.
---
Treasure Chest Update
As usual, Treasure Chests will update April 18 around 10 a.m. PT – watch our Twitter (@MagicOnline) and our Discord channel for the precise timing. The TC-Only slot returns as it has for the last few sets.
Please note: In the TC-Only slot, we are intentionally including Uncommons – namely, the Etched versions of the Bonus Planar Legends. Rares and Mythics of this group will appear in the Curated slot.
Our Treasure Chest Fast Follow will take place around May 17, just after March of the Machine: The Aftermath releases.
For full details on the changes to come, check out the Treasure Chest information page.
---
Commander Corner
The war to develop Battles took a toll on our team's ability to crank through the Commander backlog during this development cycle. As with last time, the cards added this time were basically free to us while coding cards for upcoming sets.
Additions from Commander Backlog
Fevered Suspicion (AFC)
Cloakwood Hermit (CLB)
Raphael, Fiendish Savior (CLB)
Family's Favor (NCC)
Smuggler's Buggy (NCC)
Predators' Hour (VOC)
This also leads into a couple pieces of news regarding March of the Machine Commander decks:
MOM Commander will not be implemented on release day – its new cards will go into the Commander backlog and we will get to them when we are able.
Planechase Commander is not currently supported on MTGO. At some future point when we do get MOM Commander decks into the Store, we will detach the Planechase component to start – swapping out cards that care directly about Planechase gameplay. We'll provide more details once MOM Commander is ready for the MTGO Store.
---
A Word about Planechase …
Furthermore, due to persistent issues with the Planechase format in general, we are removing the play spaces for Planechase and Planechase Vanguard inside of MTGO effective with the April 12 downtime.
A combination of the planar die mechanic not working and Oracle changes for this set require more fixes than are tenable in the near term. Decks will be maintained in the Collection scene and we will look to restore these formats at some point in the future.
---
Magic Online Players Rewards (MOPR) Update
The May MOPR refresh will contain shiny things – it's an all-foil month! MOPR will consist of foil versions of the basic/full-art/tap-dual land cycles in March of the Machine and well as all 5 Promo Pack uncommons.
Then in June we will incorporate March of the Machine: The Aftermath into MOPR as well.
For more information on earning Player Rewards, click here.
---
March of the Machine Avatars
We will grant Prestige avatars from Phyrexia: All Will Be One in the days following the end of that season on April 18.
Now let's look ahead to the new set. First up is the avatar included in the New Account Starter Kit and as part of Deck Builder's Essentials: March of the Machine – it's Placid Rottentail: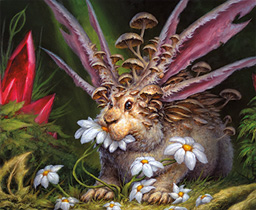 Next up are the five Treasure Chest avatars available only during this set's run – a whole set of interplanar team-ups:
Borborygmos and Fblthp
Ghalta and Mavren
Thalia and the Gitrog Monster
Yargle and Multani
Zimone and Dina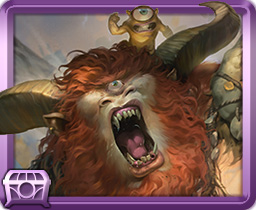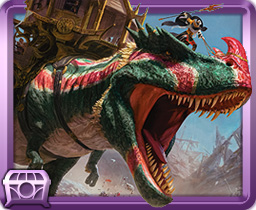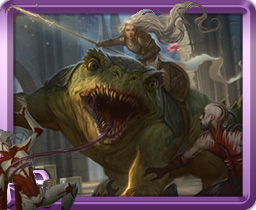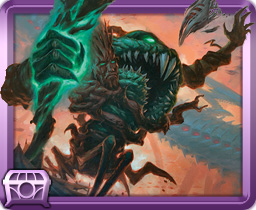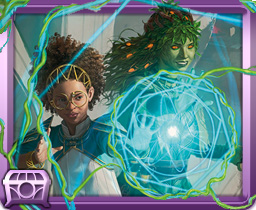 Lastly, we will dole out some Prestige! As usual, you get five points for each Competitive trophy you earn in Leagues and one for each Friendly trophy. At the end of the season (when Lord of the Rings: Tales of Middle-earth™ releases), you'll earn every avatar for which you qualify: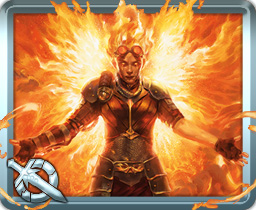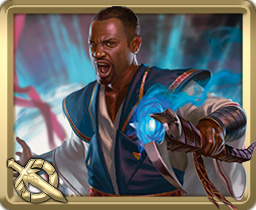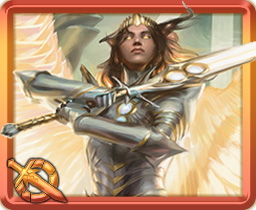 Earning at least five points gets you the uncommon Chandra, Hope's Beacon Prestige avatar.
Earning at least 20 points nabs you the rare Teferi Akosa of Zhalfir Prestige avatar.
Earning 40 points or more awards you with the mythic rare Archangel Elspeth Prestige avatar.
---
Alternate Play Schedule
Here's a look at the schedule of events coming up between now and Lord of the Rings: Tales of Middle-earth™. Each description mentions whether or not the Draft is Phantom – cards won't be added to players' collections in Phantom events. All event transitions are at 10 a.m. PT.
April 18-May 3 – March of the Machine Best-of-One League (Keeper) – this has the same entry options and prizes as the previous versions but runs for just two weeks.
May 3-10 – The Magic 30 Cube is back again with updates from MOM! (Phantom). This Cube will recur each time a Magic Con takes place in 2023.
May 10-24 – Vintage Cube is back for a two-week run to support the Season 1 MOCS Showcase on May 20 (twitch.tv/magic) (Phantom).
May 24-31 – How many Phyrexian incursions into planes have there been? One of the most famous ones is among the most beloved old draft formats – it's Invasion Block (IPA) Flashback! (Phantom).
May 31-June 7 – Another famous Phyrexian battle front was the plane of Rath. We'll head back there via Tempest Remastered. (Phantom).
June 7-14 – Emblematic of March of the Machine and back for the first time in four years – it's Battle of the Planes! (Phantom).
June 14 – LTR Release – We are still considering out options for this week …
---
All-Access Returns May 31
One of our most popular promotions returns starting May 31st – MTGO All-Access! For $25.00 USD you can gain access to nearly every card in Magic Online for up to two weeks until the June 14th downtime. Full details on this deal will be available in mid-May in the Weekly Blog.
---
Odds and Ends
Normally, Leagues of Standard expansions last until the next Standard set release. However, the current plan is to run March of the Machine only until The Lord of the Rings: Tales of Middle-earth™ releases, not all the way to Wilds of Eldraine.
March of the Machine will be redeemable and its Redemption Tokens are scheduled to go on-sale on May 17. Stay tuned to the Weekly Announcement Blog at MTGO.com for details.
The current Leagues run until April 18. Cards reprinted in MOM that are entering a format will not be legal until the MOM Leagues start on April 18.
New player products will not feature MOM until that set's Leagues begin.
We'll see you on the battlefield!
The Magic Online Team
---
P.S. – Come Work For Us!
We have recently rolled out a slate of positions now available on the Magic Online team, ranging from Producer to Software Engineer to Cardset Development. If you want to review open positions and live/can legally work in:
The United States – check our Daybreak Games' careers page (CTRL+F for MTGO).
Canada – check out the career page of our sister company Big Blue Bubble.