Magic Online Weekly Announcements, October 25, 2022
Posted on Oct 25, 2022
TRANSITION TO DAYBREAK GAMES COMPLETE!
The Magic Online team pulled off one of the biggest behind-the-scenes projects in years last Tuesday when we transitioned the game from Wizards of the Coast's servers to Daybreak Games. A hearty congratulations goes to the MTGO crew!
As a reminder to you, if you have not yet uninstalled the old version of MTGO and installed the updated client from MTGO.com, please do so at your convenience – the big Download Now button at the top of this screen.
We also want to thank the community for helping us test server stability when we came up from downtime via our one-day Super Jump League! All accounts that played 3 or more matches in that League received a grant of 100 Play Points last Friday.
A few loose ends to tie up:
There was a hiccup with 2-player queues on the night of the transition. That issue was resolved and the 2-player queues in all formats have returned to the game.
The Decklists tab at the top of this page now has all deck data from Scheduled Events and Leagues back online!
The MTGO Forums are LIVE as of this morning – bookmark forums.mtgo.com and check back there for updates. (Login is the same as to enter MTGO) This is the primary spot to file bug reports not affecting paid events, as well as to find the community for your preferred play style on MTGO.
Have you bookmarked our Customer Support site at help.mtgo.com? This is the new home for troubleshooting, conduct reports, and reimbursement requests.
---
MAGIC 30 CUBE STARTS TOMORROW
Presented as a part of this weekend's Magic 30 Festival in Las Vegas, Magic designer Carmen Handy debuts the Magic 30 Cube! This will be a recurring Cube offering that runs alongside the multi-day tabletop celebrations this year and next year.
This Cube features at least one card from every single major release in the game's history! Read all about it in Carmen's article on Magic.gg, then check out the card list found here on MTGO.com.
The first run of the Cube starts tomorrow, October 26 at 10 a.m. PT (17:00 UTC). It lasts until next Friday, November 4 at 10 a.m.
A course of the Phantom Draft League is included in the festival's Virtual Ticket Package. Look for a code to redeem in the MTGO Store – it will provide a silver Token: what MTGO calls the Uncommon Event Token.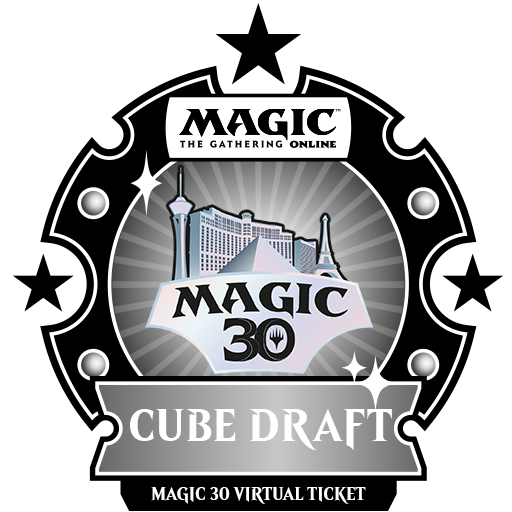 Normal entry methods are available for all MTGO players in both that league and the single-elimination queue – 10 Event Tickets or 100 Play Points.
---
CUBE SPOTLIGHT SERIES: CUBECON CARTOGRAPHIA
Catch the Cube Spotlight Series offering from John Terrill before it leaves MTGO tomorrow morning.
Explore the lands with CubeCon Cartographia! This cube is offered as both a league and single-elimination draft queue with entry options of 10 Event Tickets or 100 Play Points.
Check out the full cube list and archetypes in John's article.
---
FOUR QUALIFIER EVENTS THIS WEEKEND!
With World Championship XXVIII happening this weekend, MTGO presents a fearsome foursome of Qualifier events in two of the formats featured there – Standard and Limited.
On Saturday Standard takes the stage - one Qualifier begins at midnight Pacific (7:00 UTC) and the second begins at 11 a.m. PT (18:00 UTC).
Then on Sunday, it's Dominaria United Sealed Deck – one Limited Qualifier starts at 1 a.m. PT (8:00 UTC) and the other starts at noon PT (19:00 UTC). (Sunday's Limited Challenges are pre-empted this week.)
Each Qualifier can be joined with 40 Season 3 Qualifier Points. The Top 2 finishers in each event earn an invitation to the Regional Championship round early next year feeding the second Pro Tour of 2023.
Click the Premier Play Information link at the top of this Blog for full details.
---
ETERNAL WEEKEND RETURNS TO MTGO DECEMBER 10-11
The great autumnal tradition celebrating Legacy and Vintage formats – Eternal Weekend – returns to Magic Online in December!
This year is a bit different: Eternal Weekend events in North America and Asia are returning to tabletop, while the European events will be held here on MTGO.
All Magic Online accounts are eligible to join these events, not just European residents. Unlike MTGO events in 2020 and 2021, players will need to have the cards in their Collection to participate (no All-Access for these events).
At stake is the life-size art trophy for the winner, plus new this year there will be physical promo cards for the Top 8 finishers in each event.
For more details on the MTGO event, click here. For more details on the in-person events in Asia and North America, visit magic.gg.
---
DOMINARIA UNITED REDEMPTION DELAY
We are still working out some kinks in the order and shipping process for Dominaria United redemption sets. The new estimated date they will be available is Wednesday, November 9 once we come up from downtime.
Follow us @MagicOnline or in the Forums for any updates to the on-sale date, and for those waiting to order, thank you for your patience.
---
ALTERNATE PLAY SCHEDULE - DOMINARIA UNITED SEASON
Here's the list of Alternative Play offerings on Magic Online leading to the release of The Brothers' War:
October 26–November 4: Magic 30 Cube – see above
November 2–8: It's our annual Flashback to Innistrad in its original form. These events are Phantom. (There is a 2-day overlap with Magic 30 Cube)
November 9–15: One of our most popular formats returns: Throne of Eldraine. This will be a keep-the-cards Draft League.

This league ends on Tuesday that week – one day early
---
DOMINARIA UNITED: MAGIC ONLINE EDITION
Our latest set, Dominaria United, is now live. Check out the dedicated article to learn all about everything new with the release:
---
MAGIC ONLINE FORMAT CHALLENGES EVERY WEEKEND
Format Challenges are the first step toward qualifying for Premier Play through your favorite Magic formats and provide excellent prizes for those looking to test their mettle in their favorite formats. Learn more about Premier Play qualification to get started today.
Magic Online's Format Challenges run once on Saturdays and once on Sundays for each Constructed format! On weekends featuring Showcase Challenge events, the Format Challenge that starts at either 6 a.m., 8 a.m., or 10 a.m. Pacific time is pre-empted by the Showcase Challenge; Format Challenges scheduled at other times remain in place.
NOTES:
Pauper and Vintage Challenges are never pre-empted.
Saturday Legacy Challenges require 32 players and give prizes to Top 32.
Sunday Legacy Challenges require 64 players and give prizes to Top 64.
New for Dominaria United—Limited Challenges! Get the full details on Limited Challenges in the Dominaria United article.
32-Player events are 6 rounds with no playoff and require 32 players to fire.
64-Player events are 7 rounds with no playoff and require 64 players to fire.
Check out the Magic Online Format Challenges page for further event details.
---
CHANGE LOG - Wednesday, October 26
Undead Butler will correctly function – the Butler must be exiled in order to return a creature card to hand from the graveyard.
---
NEXT DOWNTIME NOVEMBER 9
The next scheduled downtime is planned for Wednesday, November 9 beginning at 9 a.m. PT (16:00 UTC). This is for the implementation of The Brothers' War – note that events including that set do not begin until November 15.